click to enlarge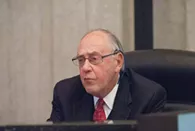 An ordinance before the council would outlaw cyclists from riding between cars and require bikes to adhere to a three foot buffer when passing other vehicles.
*Click to view ordinance (underlined language is proposed addition)*
The ordinance proposed by Councilman Pat Ryan has drawn criticism from the cycling community, and even though he made some modifications to the version submitted to the council Tuesday, many cyclists see it as an unnecessary law change.
The council will hold a public hearing on the ordinance during its Jan. 20 meeting and a final vote is expected Jan. 27. The ordinance with Ryan's amendment would make the two following additions to city law:
No person operating a bicycle shall pass other vehicles between lanes of traffic traveling in the same direction.
When overtaking and passing a motor vehicle proceeding in the same direction, a person operating a bicycle shall exercise due care by leaving a safe distance of not less than three feet between the bicycle and a motor vehicle until the bicycle is safely past the overtaken motor vehicle.
Motor vehicles are already required to allow for three feet of space from a bike, but Ryan's proposal would require a passing bike to meet the same standard.
Ryan told Oklahoma Gazette last week his ordinance was designed to protect vehicles from cyclists they can not see.
"I had seen some bicycles closer than [three feet] to a car and they came up behind the car, so the car had no choice in that," Ryan said. "If the car had made a sudden stop and the bike hit him, who would be at fault? The car would. So, this [ordinance] would correct that."
A handful of residents addressed the council Tuesday to express opposition to the ordinance and while council comments on the matter were brief, there did appear to be a split.
Ryan had originally said he wanted to add stronger language to force bikes to ride on the far right of a road, but took that language out after hearing complaints from cyclists.