click to enlarge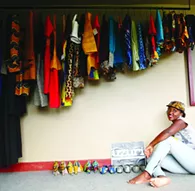 The runway meets social revolution Tuesday during the fourth annual JEWEL Fashion Show at Gaillardia Golf & Country Club.
The event will feature designs from Rwandan handicraft and fashion entrepreneurs who will be in Oklahoma as part of the Institute for Economic Empowerment of Women (IEEW), an Oklahoma-based organization that oversees the Peace Through Business (PTB) program.
"We are excited to debut hip, young Rwandan designers' ... fashions and shoes for the first time in the U.S.," Jan Hill, creator of the show and owner of main sponsor Eden Salon & Spa, said.
Men's designer suit store Spencer Stone Co. will provide attire for a specially featured men's segment that includes OKC Ballet dancer and reality TV star Ronnie Underwood as a special-guest model. Underwood was recently on TV network The CW's show Breaking Pointe, about dancing at Ballet West in Salt Lake City, Utah.
Kevine Kagirimpundu and Monica Umwari are the two Rwandan women whose work will be featured in this year's show, through IEEW's program.
Kagirimpundu, a surviving orphan of the 1994 Rwandan genocide, graduated from the University of Kigali's Department of Creative Design and now co-owns Uzuri K&Y Designs Ltd. Her goal is to educate people about African heritage by using traditional Rwandan materials in her modern fashion designs, according to her PTB profile.
Umwari earned a bachelor's degree in Entrepreneurship and Small Business from Uganda's Makerere University before starting her company, Angaza Ltd. Angaza means "to illuminate" in Umwari's native language, Kishwahili. Her goal is to use her fashion accessories, including wallets, purses, laptop bags and totes, "to illuminate ... the concept of recycling and waste management throughout Rwanda," according to her PTB profile.
Discarded rice sacks, banner flex and scraps of various kinds of material are just some of the would-be trash items that Umwari uses to make her products.
For the past eight years, the PTB program has partnered female entrepreneurs from Rwanda and Afghanistan with female business owners in the same industry in Oklahoma. PTB is a one-to-one mentor program in which the student and teacher hold weekly Skype meetings to foster both education and their newfound relationship, according to IEEW's website.
At the end of the 10-week sessions, the top 15 women are chosen from Rwanda and Afghanistan to travel to America for Mentorship Week, where they receive on-site training at their mentor's company and "guidance in managing a career, social responsibilities and family life," according to the site.
Though IEEW is nonpartisan, Terri Neese, head of IEEW, encourages the businesswomen to become involved in their country's politics.
"Our mission is to empower the woman economically, socially and politically," Neese said. "I'm a firm believer that if you're in business [but] not involved in politics, then politics will run your business."
Tickets for Tuesday's show must be purchased in advance at ieew.org.