On Oct. 8, a team of creative and enthusiastic designers, photographers, videographers, models, makeup and hair artists, wardrobe stylists and props masters descended on The Paramount OKC, 701 W. Sheridan Ave., all for the purpose of shooting an Oklahoma Gazette Halloween cover unlike any other in our history.
It came at a momentous time; having recently added several new and talented people to Oklahoma Gazette's visual and creative teams, we wanted to let them loose on a project and take it from concept to completion.
"When Tiffany and I came together to conceptualize our first cover, our immediate instinct was, 'How can we make this different?'" said Oklahoma Gazette photographer Alexa Ace. "The answer was fashion photography."
Tiffany McKnight, Gazette graphic designer and local artist, came to the shoot armed with an aesthetic and a passion for the avant-garde, Gothic romanticism and mystical elements. Ace and McKnight recruited two local models, Brooke Taylor and Domonique Menser, whose style and substance embodied the kind of modern gothic feel they envisioned.
"Despite the overwhelming amount of gore that is typically associated with this holiday, I decided to take a more subtle approach and just focus on the beautiful models and the clothing," McKnight said.
The group effort included wardrobe and props from The Junk Fairy at Bad Granny's, 1759 NW 16th St.; a plethora of ghoulish provisions from film producer and former deadCenter Film Festival executive director Cacky Poarch; videography by Kyle Van Osdol; genius hair and makeup work by Lacey San Nicolas; and dead flowers generously provided by Tony Foss Flowers.
"We began by intertwining dark accents with various popular Halloween concepts," Ace said. "I knew of a stylist in the OKC metro who's an absolute powerhouse when it comes to photo shoots, so after scouting through her giant warehouse of vintage clothing, we came to a Victorian theme as the conclusion — fashion with a hint of haunt."
For McKnight, the shoot was an opportunity to achieve something not just cool and evocative, but progressive.
"It was very important to me to be inclusive in when it came to choosing models for this shoot, so much so that I made it a priority to showcase that women of color existed during Victorian times and also participated in gothic fashions," she said. " For me personally, this was quite the achievement considering that our model Domonique personally told me how much it meant to her to even be considered for this shoot, seeing as how people of color are all too often left out the Victorian aesthetic."
The Paramount OKC, which is currently undergoing renovations, provided the ideal creepy-chic environment for the shoot, inspiring the staging as much as it satisfied the atmospheric goals.
"The Paramount ended up being the perfect location for our shoot, and I believe we were able to capture the true essence of spooky, witchy vibes," McKnight said. "What is most important to me is that despite the gothic vibes on set, everyone was having fun while we worked, and I believe the inspiration truly shows in the photographs."
For more photos and video, visit okgazette.com and Instagram @okgazette.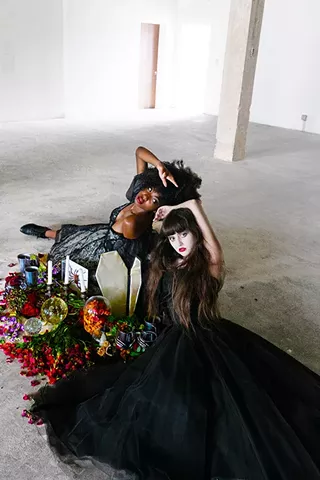 10 slides