click to enlarge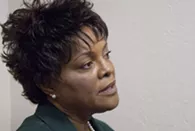 Connie Johnson and Mary Jane make for a good match — politically speaking, that is.
Johnson, a state senator who is running as a Democrat for U.S. Senate, announced her plan last week to try and get a marijuana legalization amendment on the November ballot.
Polls indicate voters who might be drawn in November to back a marijuana legalization bill are more likely to vote for a Democrat.
"Well, of course," Johnson said when asked if her petition effort was partly an attempt to increase voter turnout come November. "It's time for us to step up and play the game."
Johnson referenced ballot issues on a same-sex marriage ban in 2004 and restricting the use of Sharia law in 2010, which she said were Republican efforts to motivate its voting base.
"But it's not just a political move," Johnson adds. "It's a genuine concern about policy reform in Oklahoma."
Support higher than expected
Johnson has a history of pushing for marijuana reform that offers proof that her recent petition effort is more than just a campaign tactic. Over the past few years, she has introduced legalization bills — including this year, when her bill never made it out of committee.
Rep. Cory Williams, D-Stillwater, introduced a bill last year to remove possession of marijuana as a felony offense. It received unanimous approval from the House Public Safety committee but was never granted a hearing on the House floor.
The Republican Legislature has been leery to act on marijuana legislation, and some believe residents of Oklahoma, the majority of which vote Republican, might also be against legalizing the drug. However, polls show that approval of a marijuana legalization bill in November might not be too far of a stretch.
For the first time in history, a majority of Americans are in favor of making marijuana legal, according to a Pew Research poll conducted in 2013. In Oklahoma, a 2013 SoonerPoll found 57 percent of Oklahomans — which is a few points higher than the national average — are in favor of decriminalizing the drug.
"I was surprised [by the results]," said Bill Shapard, founder of SoonerPoll. "I thought as conservative and as [Republican] as Oklahoma is, support for it would not have been that high."
However, the 57 percent approval found by SoonerPoll does not guarantee an affirmative vote, should the issue make the November ballot.
"Given that this is the first time that we have asked this question, the answers are probably absent of any type of campaign that might develop both for and against marijuana legalization," Shapard added.
Before voters have a chance to legalize pot, Johnson's team will need to collect nearly 160,000 signatures to force the ballot issue.
click to enlarge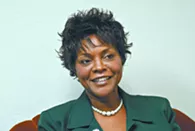 The policy of weed
Has Johnson ever tried marijuana? "Sure I have," Johnson said. "I'm a child of the '70s."
If made legal, Johnson said she could see herself considering it as a remedy for arthritis. Marijuana has been proven to offer some medical benefits, at least in the way of stress and pain relief. But beyond the medical benefits, Johnson views marijuana legalization as a way to respond to the state's problem with overcrowded prisons.
Nearly half of Oklahoma prisoners are incarcerated on nonviolent convictions, and 10 percent are due to drug possession. Examples of harsh sentences are often used to show the damage marijuana laws have on individuals, but law enforcement officials often say the problem is not nearly as severe as portrayed by the media.
Laws in Oklahoma charge offenders with a felony after their first charge for possession of marijuana. The intent to sell is treated as a felony on the first offense. "A felony means you can't get a certain job or housing [when you leave prison]," Johnson said. "When a person comes back from prison, that ability to rebuild your life has changed. Let's look at why they are being arrested and why the laws are the way they are. Is it worth a felony?"
National trends
Two states — Colorado and Washington — have legalized recreational marijuana use, seven have decriminalized possession and dozens more allow for medical uses. Oklahoma would not be a trailblazer if it were to legalize marijuana, but it would be ahead of the curve on an issue that many social experts believe will eventually sweep across the nation, especially if states that allow for the sale of marijuana show positive tax revenue.
The city of Denver alone is expected to see an extra $40 million in additional tax revenue in 2014 due to the legalization of marijuana.
While Johnson hopes a marijuana ballot question gives her campaign better odds, she also hopes to spark engagement with segments of Oklahomans who have been detached from the electoral process, such as young voters.
"I think this is one issue that can help bring younger voters out," Johnson said. "It's time to get them more involved and help them understand that if they aren't doing government, government is doing them."