click to enlarge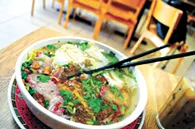 I've always had a love affair with the refreshing, healthy cuisine of Vietnam.
I love the fragrances, the fresh herbs, cilantro, basil, mint and other Asian herbs: perilla, Vietnamese coriander and sawtooth cilantro. And I love the contrast and balance in almost every dish: spicy vs. cool, salty vs. sweet and steamed vs. crispy.
When I'm craving comfort food, I go to straight to Lang's Bakery. Located in the Asian District, Lang's Bakery, 2524 N. Military Road, has been serving up homestyle Vietnamese food since 1991.
Shortly after moving to Oklahoma City from South Vietnam, Teresa Lang and her sister opened the bakery and restaurant, now a district mainstay.
"Our menu reflects homestyle cooking, just like you would find in Vietnam," Lang said.
The bakery also specializes in wedding and birthday cakes, desserts and catering. The uncomplicated menu highlights what's great about family fare: It offers what the Lang family's enjoyed for years.
With everything on the menu under $8, it's easy to make this eatery a regular breakfast, lunch or dinner stop. Also, bring cash, as Lang's doesn't accept debit or credit cards or checks.
I first ordered the bánh t??m bì ($6.25), shredded pork over thick white noodles with coconut cream. Served with cooling mint and bean sprouts, this is the perfect dish for an oppressively hot summer's day. The thick white noodles are the quintessential definition of comfort food. Dip the pork in the traditional dipping sauce, Nu???c m??m pha (served with every meal), a blend of fish sauce, lime juice, sugar and slices of bird chilies.
There are two categories of Vietnamese soup: filling noodle soups often eaten for breakfast or lunch and lighter, more brothy soups eaten at the beginning of a multi-course dinner.
Lang's soups are meals in a bowl. The mì hoành thsánh, a barbecue pork and wonton soup with egg noodles ($6.50) is indeed filling. This soup is topped with cilantro, scallions and fried shallots. Feel free to enjoy this soup however you please; it's traditional in Vietnam to make slurping sounds when eating soup.
There are seven sandwiches, including bánh mì sandwiches, including pork, chicken and beef. The bánh mì gà, chicken sandwich on French bread with pickled carrots and daikon radish plus hot peppers is wonderful and a deal at $2.50. The baguettes are crispy outside and light inside. Lang's opens at 8 a.m., so grab a bánh mì to-go for a traditional breakfast.
Try the cà phê s??a ?á, French drip iced coffee Vietnamese-style ($2.75). This is strong stuff and comes in a small drip coffee pot over a cup with condensed milk and then is poured over ice.
Historically, broken rice is a dish that was eaten by rice farmers who were unable to sell leftover rice broken in the milling process, hence creating a wonderful Saigon-style dish for themselves. The co?m tâ?m long xuyên ($6.50), charbroiled pork, baked egg patty with vermicelli noodles and broken rice served with a Vietnamese salad, is a Lang's specialty.
While eating, relaxing Vietnamese music played overhead. The break from TV and blaring radios was a delight.