click to enlarge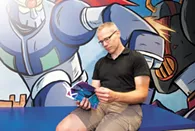 A fat, lazy slacker who suffers from hangovers might not be the typical superhero, but he is the hero in Brian Winkeler's first graphic novel Knuckleheads: Fist Contact, a comedic story that takes a fresh perspective on the all-American superhero.
Winkeler, an Oklahoma City resident, started writing content for the graphic novel five and a half years ago.
The main character, Trevor K. Trevinski, aka Crystal Fist, would be similar to Green Lantern if Green Lantern was a fat and lazy boozer. Winkeler says that Trev was so hung over when he received his super powers that he doesn't even remember how he got them. He's definitely not your classic superhero. (He also uses his powers to cheat at Wii and steal Netflix.) In a classic comic book twist, a monster eventually shows up and Trev has to save the girl. In this case, the girl is Emma, a hot, drunk English chick.
Crystal Fist, along with his roommate, Lance Powers, and their unlikely friend, Pizza Guy, are lumped together — not for the adventure they find but for the adventure that finds them.
"I create characters first and see what they will do and how they will react to things," Winkeler said. "I think, 'Wouldn't it be funny if ... ?' and see how the characters react to the situation."
A huge part of the comic world is Comic-Con. To Winkeler, it is an old familiar friend that has been a part of his journey to creating his first graphic novel. In 2009, Winkeler took eight pages of the Knuckleheads graphic novel, replete with Robert Wilson IV illustrations, to Comic-Con. After receiving good feedback, it was recommended that he complete an entire issue, which resulted in 22 pages.
The 2010 self-published issue grew awareness with other creators. In 2012, an acquaintance of Winkeler was starting a digital publishing company called Monkeybrain Comics. Monkeybrain Comics invited Winkeler and Wilson to continue the series, and the digital series was distributed in 2013.
Knuckleheads caught a break with Monkeybrain Comics, as they have a special relationship with IDW Publishing. Winkeler met with them last year in San Diego and was quickly offered a book deal. The book contains the first eight issues of the digital comics.
Winkeler is going back to Comic-Con this summer to promote the full graphic novel Knuckleheads: Fist Contact. Winkeler and Wilson work with Jordan Boyd of Norman for coloring and Thomas Mauer of Hamburg, Germany, for lettering.
"It's a team effort of four people putting issues out," Winkeler said.
Winkeler compares it to the likes of It's Always Sunny in Philadelphia, New Girl or other 20-something misfit sitcoms.
"I call it a sitcom because the characters are hanging out, having fun busting each other's balls instead of aliens," Winkeler said. "Someone who likes Arrested Development, not necessarily someone who has read every Batman comic, will enjoy Knuckleheads."
Born in St. Louis, Winkeler moved to Bethany when he was five years old. He said he had one sad year in Lubbock, Texas, and realized Oklahoma City wasn't so bad after all. There are even a few OKC Easter eggs in the novel.
When he isn't creating characters for his comics or working at his design and advertising firm, Robot House Creative, Winkeler said he and his wife, Vi, do a lot of kid stuff with their sons, Hugh, 6, and Van, 11.
He also loves to eat and drink beer, so he winds up exercising a lot and playing indoor soccer to offset some of the calories.
Winkeler has loved comics from a young age.
"I think people are compelled to do the things they are good at. My brother was the engineer, and that wasn't me and I wasn't sporty. In junior high, I was the kid watching Doctor Who and reading comics."
"[This book represents] a couple of guys who have worked really hard to birth this thing," Winkeler said. "It is the best book possible and one that we would want to read. It's not without its charming flaws, but I think it is pretty cool and am excited to share it with people."
Despite a planned release date of July 22, the comic debuted sooner than expected and is currently for sale at local comic shops and also on Amazon.
Winkeler, Wilson and Boyd will be getting together for two signings and a panel discussion at this year's Comi-Con in San Diego.
Winkeler said that if he doesn't have any other future opportunities to produce comics, Knuckleheads: Fist Contact makes him laugh and he loves seeing Wilson's artwork progress throughout the book.
"It will be the first book for Robert and me with our names on it," Winkeler said. "This is our dream come true and what we have been working toward for five years."
Print Headline: First Contact