click to enlarge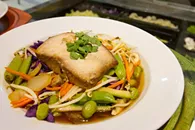 It takes more than cooking skills to work at Nebu. You need personality, said executive chef and general manager Mark Vannasdall.
"A lot of chefs like to be hidden away," he said. "When I'm interviewing people, they have to be able to smile and talk to people. We're right out front."
An expansive dining concept on the ground floor of Devon Energy Center, Nebu is a little like a food court ... if food courts were awesome.
Part of food service contractor Guckenheimer, which manages company cafeterias across the country, Nebu is one of the few that is open to the public.
Monday through Friday, for breakfast and lunch, Nebu's staff mans a diverse collection of cuisine stations. It's a little like running nine restaurants under one roof, Vannasdall said. And while it might seem suspect to find good pizza, burgers, tacos, sushi, salad, deli sandwiches and Asian cuisine in the same place, the team works well together and apart.
"Everybody takes ownership of their station," Vannasdall said. "With 25 cooks, we can draw on a lot of people's backgrounds and interests."
It's a formula that has proven successful, said Damien Franczek, who was with Nebu at the start before becoming a Guckenheimer area manager. Many company cafeterias are heavily subsidized in an effort to keep employees in the building. But Nebu has almost completely eschewed subsidy — other than discounts for those who choose healthy options. Instead, the restaurant has become a perk for Devon workers and a draw for other downtown employees looking for variety.
click to enlarge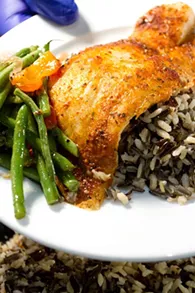 Vannasdall has plenty of education in corporate culture, having served in a similar role at Chesapeake Energy Corporation before the layoffs began. Nebu attracts so many diners precisely because they can meet such varied tastes.
"If you're going to lunch with five people and three of them are on diets and one is a vegetarian and one guy absolutely has to get a burger, we can serve everyone," Vannasdall said.
Breakfast runs from 6:30 to 9:30 a.m. and features waffles, pancakes, yogurt, biscuits and gravy and — one of the most popular stations — build-your-own omelets.
Working the griddle, Demetrius Little is all smiles and laughs as he deftly flips together spinach, turkey, cheese and peppers into a perfect omelet, but he also leads off by making sure diners are getting egg whites.
The Well initiative gives employees a discount for choosing healthier options, including egg whites for breakfast, Vannasdall said. It's also driving a lot of Oklahomans who aren't normally fish eaters to start chowing down on seafood.
"Oklahoma's fish varieties aren't that great, so we started adding more fish to the menu, and they've really taken to salmon," he said. "We go through about 300 pounds of salmon a week. That's huge."
Nebu also sells quite a few sides of heritage grains. Quinoa and kamut and barley and faro — Vannasdall thought Nebu would offer it just to gauge interest, but the demand has grown quickly. It's even true in desserts, where the quinoa cookie is its No. 1 seller.
Which isn't to say one must be healthy at Nebu. The pizza bar routinely features healthier toppings alongside meaty pizzas covered in pepperoni, salami, capicola and smoked sausage. Every couple of months, Nebu has a "comfort food week," when it serves chicken-fried steaks, fish and chips and other indulgent offerings.
Part of that is a reward, Vannasdall said. People at Nebu really do choose healthy options with increasing regularity. Eating right most of the time means it's okay to give yourself a treat occasionally, he said.
And even when diners choose lower fat, lower calorie dishes, the food will taste good because Nebu hires cooks it trusts and puts them in a position to be creative, Vannasdall said.
"We try not to fry a lot of things, but generally, we don't put restrictions on our staff," he said. "Their job is to create great food, and we encourage new ideas, new flavors and creativity. That's how we keep people."
Retaining cooks isn't always easy, especially if they're cooking the same foods day in and day out. It's doubly important when you're running a scratch kitchen like Nebu, where everything is made in-house and out front and the customers are always hungry for something new.
"You'd think with nine different stations people wouldn't notice, but when we put something new out, they pay attention," Vannasdall said, "so we keep challenging ourselves."
Judging by the massive crowd of diners that come in each day, Nebu is up to that challenge.
---
Print headline: Gold standard, Diners can enjoy a variety of food with healthy and delicious options at Devon Energy Center.