click to enlarge
Better brew
If Folgers and Nescafé just aren't doing it for you anymore, the caffeine wizards at Coffee Slingers Roasters, 1015 N. Broadway Ave., will provide the science behind coffee magic with their Better Brew Workshop on Saturday.
Manager Tori Goben said the course teaches six essentials of brewing, supported by the Specialty Coffee Association of America. While the class focuses on using that information in French press and pour-over brews, they can apply to all kinds of coffee making.
"Making great coffee is like one big science experiment," she said. "Water quality is huge. We get into the right kind of water, the temperature and even how to use a scale properly. It's not just for looks. There's a real reason behind using it."
The workshop is $20 per person with 10 spots available. The class, taught by lead barista Vivian Feng, will last an hour and a half. Tickets are available at coffeeslingers.com or can be purchased in-store.
click to enlarge
Spooky steaks
The venerable Haunted House has a new name, a new owner and a newish menu, thanks to Patrick Boylan.
Boylan's main business is with a Norman-based events company, but he got into the restaurant business in Osage Beach, Missouri, when he purchased J. Bruner's after the owner's death.
When Haunted House, 7101 Miramar Blvd., went up for auction earlier this year, Boylan, a devoted customer, went just to see who would end up with it. But as the sale continued, he saw an opportunity and placed his one and only bid. He won.
Now called J. Bruner's at the Haunted House, it reopened for business on July 4. The menu features a variety of steaks, seafood and J. Bruner's famous onion rings. Visit jbruners.com.
click to enlarge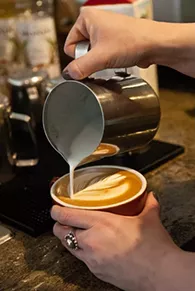 Ch-ch-ch-Chae-nges
Practice is over this fall as Rehearsals Grill, 1933 NW 23rd St., becomes Chae, a modern Korean restaurant and bar.
It's named for owner Daniel Chae, who also owns the local All About Cha Coffee and Tea shops, and Chae's menu is being built with Vast sous chef Kevin Lee.
"This isn't a traditional Korean restaurant," Lee said. "It'll be familiar foods with Korean flavor."
Lee teased a menu with Korean braised short rib rillette and kimchi fried rice, though it's still in the development phase.
Chae said a fusion menu is a great way to introduce people to Korean flavors while giving them foods they already know and love. And with recent Coach House Apprentice Program graduate Taylor Desjarlais in the kitchen, there will likely be some French influence as well, Chae said.
"Any dish that hits the spot is fair game," he said. "It'll be really fun to watch as the menu meshes together."
Interested in watching as the new restaurant progresses? They've set up an Instagram account (@chaeokc) where they'll be posting photos of the menu, construction and design.