click to enlarge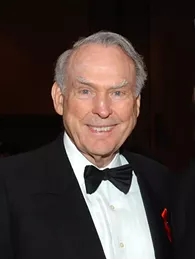 Jackie Cooper's name will always be synonymous with cars, but for the past 25 years, business was a means to the end of creating a legacy that has helped innumerable Oklahomans affected by HIV/AIDS. Cooper, who founded the Oklahoma AIDS Care Fund, died in his home on February 27 at the age of 82. The story of Jackie and Barbara Cooper's entry into the fight against HIV/AIDS is so well-known now that it is virtually oral history.
The Coopers' son Jerry was an accomplished musician and journalist. He died of AIDS in 1989, and it changed the trajectory of Jackie Cooper's life. At a time when most Americans misunderstood the disease and stigmatized its victims, Cooper decided to do something completely counterintuitive for a businessman: He and his wife founded the Oklahoma AIDS Care Fund in honor of their son.
Since its founding, the fund has raised more than $11 million for education and relief, much of it via the state's largest fundraiser, Red Tie Night. Oklahomans who knew Cooper, whose friends and family called him Jack, mostly describe him as kind and a tireless advocate for the less fortunate. His compassion extended beyond HIV/AIDS; he was a sincere person.
Cooper was born in Yukon, Oklahoma, in 1932. Claude Cooper, his father, owned an automobile repair shop where Cooper worked as a boy. In 1948, Claude purchased an Oldsmobile dealership. Jackie went from stocking and odd jobs in the repair shop to car salesman at the age of 16.
Cooper loved basketball and played on scholarship at two universities with plans of coaching after graduation. Claude Cooper's illness changed Jackie Cooper's plans, though. Jackie Cooper purchased his father's dealership at 21. He would parlay that first dealership into eight different car — the Cooperville sign in Yukon is an enduring image of Oklahoma culture and the Route 66 mystique.
Cooper married Barbara Jo Perry, another Yukon High School student, and the two were married for 62 years. Cooper was one of those rare Americans who has the same job and same spouse for nearly the entirety of his life. The couple had four children: Cindy, Jerry, Joe and Jon. He is survived by his wife, three children, six grandchildren and three great-grandchildren.
In addition to his commitment to the fight against HIV/AIDS, Cooper gave generously to many charities, including the Susan G. Komen Foundation, and universities, especially his beloved University of Oklahoma. A scholarship in honor of Jerry Cooper was established by Jackie and Barbara to help marching band students acquire an education while they played for The Pride of Oklahoma.
True to form, the family asked that donations be made to the Oklahoma AIDS Care Fund in lieu of flowers for Cooper's memorial service. It is a rare human who can unite liberals and conservatives behind a common cause, but Cooper translated his skills as a seller of cars into dedication to bringing Oklahomans together to fight an awful disease. That is truly his greatest legacy.