click to enlarge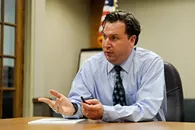 Metro area cities have agreed to put up real dollars for the creation of a regional transit authority (RTA) that transit advocates say is the biggest step yet toward building a real regional system of commuter rail, streetcar lines and rapid bus service.
"It's huge," said Daniel O'Connor, director of transportation for the Association of Central Oklahoma Governments (ACOG), the agency spearheading the RTA plans.
As area cities finalize upcoming budgets, a total of $511,000 has been committed from Oklahoma City, Norman, Edmond, Del City, Midwest City and Moore. Another $584,000 in federal funds has also been committed.
"We are hopeful that we now have that depth and support and commitment for those six core cities who are now wanting to write checks to support the project," said John Johnson, ACOG executive director. "When you can begin to put funding towards a planning concept, it moves off that drafting table into the real world."
Construction on commuter rail and streetcar lines to those six cities is likely at least a decade away. But the funding commitment to create an RTA that will continue the plans represents another significant step forward.
Legislation passed last year will allow the RTA to draw taxing boundaries by precincts closest to the proposed rail lines, which is believed to increase the likelihood of voter approval. Oklahoma City's redevelopment of Santa Fe Depot into a multi-transit hub was another key step, ACOG officials said. Public support for regional transit from the Greater Oklahoma City Chamber of Commerce last year was also seen as a milestone.
"[This] is no longer just fantasy talk," said Marion Hutchison, a member of ACOG's regional transit dialogue steering committee. "It's pretty exciting because this isn't just people talking about it ... all the cities are putting up the money to sit down and do this. This is the next thing."
A proposed regional transit system would connect Norman and Edmond with downtown Oklahoma City via commuter rail. Streetcars would also extend from downtown to Midwest City and Tinker Air Force Base to the east and north along Classen Avenue. Those plans are subject to change, especially as each city gets more involved in the planning. But ACOG has already completed significant work on developing possible routes.
The next step is for each of the six cities to agree to a memorandum of understanding, which will spell out the process for creating an RTA task force. The recently committed funds will possibly be used to hire an RTA director and continue planning for a potential vote in a few years.
The potential for MAPS 4 in a few years has been viewed by some transit advocates as a possible time to ask residents in the six cities to approve a sale tax increase for the RTA. There have also been early discussions among city and community leaders to include transit and placemaking features in the next MAPS project.
"All of these six cities have their own agendas, sales tax, special elections ... will there be a MAPS 4? When will that be?" Johnson said. "I think all of those things turn the wheel on when a regional election might be. But fortunately, all of those folks involved will be at the table."
Oklahoma City consistently ranks as one of the nation's least congested regions in America, including a Texas Transportation Institute ranking that put OKC as the seventh best city for daily commute times. But city and business leaders say that will change as the region continues to grow and follow patterns of sprawl.
"All you have to do is look at the Broadway Extension and how many people are going down the Broadway Extension every morning and evening," said Edmond Councilwoman Elizabeth Waner. "We can only build so many roads."
Waner has been involved in the regional transit discussions for years and encouraged her fellow councilors to approve the budget item, which she said wasn't a tough sell.
"This whole regional transit effort that is going on is really big for the metropolitan area when you look at what is happening in any direction from Oklahoma City," Waner said. "We need to be part of that growth and development."
On the other end of the metro, Tom Sherman, past chairman of the Norman Chamber of Commerce and member of ACOG's transit steering committee, said the creation of a regional transit authority moves the region closer to rail-based transit and could bring about expanded bus service much quicker.
"When you look at the bus service in Oklahoma City, Edmond and Norman, they don't really tie together well," Sherman said. "That is something that can happen relatively quickly. Everybody thinks about the real flashy pieces, which would be commuter rail, but there is a lot more to regional transit than just one piece."
A few hundred thousand dollars committed from city budgets to continue planning for a regional system might not excite too many people, Sherman admitted. But he joins ACOG and other city leaders in referring to the recent step as a milestone in the region's quest to develop a sophisticated network of bus and rail that can already be found in cities like Denver and Salt Lake City.
"One of the biggest things with transit is it's one of those things you have to commit to well before you are going to see the results of it," Sherman said. "If you want transit in 10 or 15 years, you have to do this stuff today. What we are in the middle of right now is extremely important."
Print headline: Stepping stone: Metro cities pony up cash and commit to regional transit lines.