A lone youth sits atop the roof, Super Soaker in hand, but it's no use. They keep coming, these boys. The milkshake he made is too good; it brings all the boys to the yard. Please help avert a sodden milkshake apocalypse and get your frosty ice cream treat from these well-defended eateries.
— by Greg Elwell, photos by Mark Hancock and Garett Fisbeck
The Basement Modern Diner
200 S. Oklahoma Ave., Suite X
602-0111
Whoa! This is a much nicer basement than the one I live in at Mom's. Bowling lanes? Tables? Bathrooms?! The Basement Modern Diner is the kind of place you wish you could live in. Try its burgers, pizza and sweet, sweet milkshakes, like the Grasshopper, made with Breyers Ice Cream. (Add a shot of crème de menthe for a couple bucks more.)
Sara Sara Cupcakes
7 NW Ninth St.
600-9494
Danny: This cupcake is great, but I wish I could drink it.
Sandy: This milkshake is great, but I wish it was more cake-y.
Kenickie: Is this turning into a Grease joke?
Sara Sara: Maybe you guys should share a cupshake. And shut up, Kenickie. No one likes you.
S&B's Burger Joint
Several metro locations
631-0783
What are you legally allowed to put in a milkshake? That's a fine line the madmen at S&B's walk daily, especially with The Lumberjack. It starts off like a vanilla milkshake. Then they add peanut butter. And maple whiskey. And brown sugar bacon. And sea salt. Pretty soon, you have a milkshake so manly that trees fall down just looking at it.
Ice House
101 Ron Norick Blvd.
232-6427
We love Ice House for its great Nic's burgers, crispy french fries and amazing view of Myriad Botanical Gardens. But on a hot summer day, there's nothing better than ordering a chocolate malt or a vanilla shake. Or check out Jo Jo's Shake of the Day. Some days it's caramel, some days it's Reese's Pieces. Lord only knows what Jo Jo might come up with next.
click to enlarge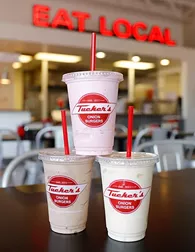 Tucker's Onion Burgers
Several metro locations
286-3331
Strawberry has no idea how it got so lucky. Chocolate and vanilla; those are easy choices. But when the International Board of Milkshakes (IBM) decided on that pivotal third spot, it could have gone to anybody: cherry, watermelon, blue. Somehow, some way, strawberry won out. That's why you can always get a strawberry shake (and a massive onion burger) at Tucker's.
Fat Elvus Diner
4 E. Main St., Yukon
354-9702
In 1975, Elvis Presley got so fat that doctors diagnosed him as being two separate people. And that is how ElvIs became ElvUS and opened Fat Elvus Diner in Yukon. How did he get so big? It probably had something to do with a delectable selection of milkshakes at Fat Elvus, such as peanut butter, strawberry, cherry, chocolate and vanilla. (Also, it was the '70s. Things happened.)
Sooner Dairy Lunch
1820 W. Main St., Norman
321-8526
More like the Later Lactose-Intolerant Dinner, right? No. Not right. You can joke about many things in Norman, like its obsession with calling red "crimson" or its desperate need to keep it "weird." But you do not joke about Sooner Dairy Lunch and its great milkshakes, available in exotic flavors such as pineapple, butterscotch and hot fudge.
Print Headline: Shook up