click to enlarge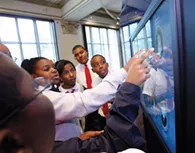 The Gaylord-Pickens Oklahoma Heritage Museum is cultivating connections between Oklahoma youth and history with stories and crafts at its new Third Thursday event.
The event kicks of this Thursday at 10 a.m. when museum staff members will read Will Rogers: An American Legend by Gov. Frank Keating to an expected crowd of about 50 children and parents. The picture book tells the story of Rogers' world travels using many of his own quotes. After the reading, patrons will be invited to watch a video about Rogers in the museum's Oklahoma Through Its People gallery.
Rogers was a comedian, political commentator and world traveler who was once quoted as saying, "I never met a man I didn't like."
After hearing about one of Oklahoma's favorite sons, children are encouraged to put their imaginations to work during the sidewalk chalk art project.
"We would like for them to draw their favorite scenes from the story. So maybe their favorite scene of Will Rogers doing rope tricks or acting in a movie, get really creative with it," Museum Services Manager Amey Pierce said.
Staff members at the museum developed the concept for Third Thursday because they wanted to capture the attention of younger, preschool-age kids with Oklahoma's heritage. Once families have paid the reduced $3 admission, they can explore the entire museum. Admission for children ages 6 and under is free.
"We have video-based exhibits with everything from touch screens to voice recorders... Because it's not just static objects, since it's actual videos telling about the Oklahomans, we think that it's a great way for younger audiences to connect with our history," Director of Marketing Shelley Rowan said.
Museum-goers can learn about the lives of Oklahomans like Jim Thorpe, one of the 20th century's greatest athletes, and Shannon Lucid, the only American woman to live on the Russian Space Station Mir.
Third Thursdays will continue throughout the year, and August's event will feature the book Charlie Goes to School by Ree Drummond, The Pioneer Woman. Children will then create a school-themed craft.
The museum is open 9 a.m. to 5 p.m. Tuesday through Friday and 10 a.m. to 5 p.m. Saturday. Regular museum admission is $7 for adults, $5 for seniors and $5 for students. To learn more about the Gaylord-Pickens Oklahoma Heritage Museum or Third Thursdays, visit oklahomaheritage.com/ gaylordpickensmuseum.
The first Third Thursday event will start 10 a.m. Thursday at the museum, 1400 Classen Drive.