click to enlarge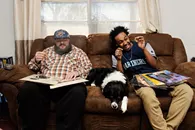 At just 19 years old, rapper Chip Mantooth is part of a new and rising pool of local hip-hop talent that is challenging conventional thought on the scene.
Chip — birth name Anthony Troy Duncan — teamed up with his preferred beat maker Igloo Panda — born Jason Owens — for his second major project, Mantooth, which was released in November.
"There's a lot of cats that have one single producer, and I like the idea of having that go-to guy, which is him," Chip said. "And aside from that, we're really good friends, so that helps the process of making the music better."
Chip came up through the local scene primarily as a member of the group MilitantxMinds. With that group going through various states of disbandment, Chip has been trying to pursue more of a solo career.
"I'm so used to having somebody else book the shows for me, pretty much having everything done for me," he said. "Shows getting booked, interviews, random stuff that I didn't really think about."
Updated retro
In Mantooth's best moments, Chip's lyrics are like a well-made paper plane gliding with height and direction, supported perfectly by Panda's instrumentals.
The first four tracks show off the emcee's flow, nearly always on point throughout the project. And those songs are only enhanced by some of the album's best beats. The first track after the instrumental intro "MAN2TH," "Love Is True," in particular features an infectious and bouncy soul sample.
"Love Is True" also ends with a slowed-down outro similar to something you might see from one of A$AP Rocky's earlier projects. These moments are featured on several outros. Mantooth is certainly a laid-back high of a listen.
Chip compares his work with Panda to that of Gang Starr's Guru and DJ Premier on the song "Lords Peace Balance." Panda said many of the tracks on the album go for an updated East Coast sound.
"I feel like, if you actually listen to it, there are other elements in the production that make it a little different than just straight-up copying East Coast style," Panda said. "There's a lot of 808-type stuff and some heavy bass that you didn't used to hear a lot."
A good example of this updated sound might be "GTFO," which also features a guest appearance from fellow MilitantxMinds affiliate Derek Cantu. Posse member Anu can also be found on "Strange."
Mixed with the flow and braggadocio are also slower moments, like those on "First Trip" and "Spread the Love," in which Chip actually sings. He will not win The Voice anytime soon, but he's not trying to either. Like singing tracks from people like Kanye West, Chip's vocals bring personality to the songs.
Chip finds himself reflecting on his young journey through the music business on "Hold Me Back," a track that also features one of the album's best beats.
"I think it's funny how young emcees think it's a breeze to make money, but the truth is it's about the perfect place and timing," Chip raps.
"That reference is for people who aren't really that open to making art, man," Chip said. "People are already expecting to make money already, but like I said, there's a perfect place and timing."
New wave
Chip has been rapping since he was 10 or 11, but he did not get serious about making music until he was 17. Panda said Chip is one of his favorite artists to work with.
"He's cool to work with because he's just really talented," he said. "I knew that the first time I saw him."
Despite Chip's youth, Panda said the emcee understands the need to be true to yourself in your music, a concept that not everyone is able to grasp.
Coming up with a new brand of experimental hip-hop, Chip said the younger artists in the area are going to take the baton from groundbreaking local acts like Josh Salle and Jabee and bring the music to places it has not been before.
"We've got a lot to bring to the table; we're about to hit this scene really hard with what we're doing," he said. "Right now, we're in the process of building, and once we come out, man, it's going to be a really hard team, dawg."
Chip is currently working on getting more shows booked for himself. He also already started planning his follow-up project, an EP that will further explore classic East Coast influences with a fresh experimental twist.
"I don't want to make just a cliché '90s beat album," he said.
Mantooth can be streamed at soundcloud.com/chipmantooth.
Print headline: Fresh raps, Rapper Chip Mantooth takes his love for '90s East Coast sound to a new plateau.