Buying unique, thoughtfully constructed, locally made holiday gifts might be cheaper than you think. Through Sunday, Oklahoma Contemporary Arts Center's annual ceramics sale offers customers the chance to purchase items made by instructors and students in the arts center's ceramics program.
"If people are shopping and they want to purchase something that's one-of-a-kind," said Julie Delliquanti, director of education and public programs at Oklahoma Contemporary, "most of the stuff that's in our sale are things that they're not making multiples of, or if they've made a couple of things, they'll all look a little bit different. It's an opportunity to buy something that, even if it's a mug, there's only going to be one like it on the table. The price point is pretty low and more affordable for people. You can come and get something cool if you have $20 or $15 or less; you can actually find something here."
The sale, an annual tradition for at least 20 years, raises money to benefit the ceramics education program at Oklahoma Contemporary, currently located at 3000 General Pershing Blvd.
"It might go to buy equipment, like a kiln or new tables or stools or just anything the ceramics studio needs … and things that are used regularly have to repaired," Delliquanti said.
This year, the sale also includes a juried exhibition, Contemporary Clay, which features ceramic works by local artists Liz Boudreaux, Peter Coates, Eric Hoefer, Mayumi Kiefer, Kara Lane, Paul Pfrehm and David Stevens.
"It's kind of a hybrid," Delliquanti said. "All that work is also for sale, but those price points are a little bit higher than the general inventory that's in the ceramics sale. If you go in, you can purchase from Contemporary Clay and that piece might be $200, or you can buy from the ceramics sale and find a great mug or a plate or a bowl for like 5 or 10 or 20 dollars. There's kind of something for everyone."
The ceramics for sale also serve a variety of purposes, from daily use to decorative display.
"Most of the items in the ceramics sale are functional pieces," Delliquanti said. "They're vessels, mugs, plates, bowls, teapots, pitchers, platters. It's nothing sculptural or figurative or anything like that. It's mostly functional ware. In Contemporary Clay, there are functional things like vases, bowls, mugs and tumblers and teapots, too, but then there are also some pieces that are purely ceramic objects, that are more like just an artwork. Then there are some that are kind of a bridge between the two. There may be something that looks like a vessel, but you might not use it as a vessel. You might just keep it as a piece to have on a shelf or whatever, but most of the stuff in the ceramic sale are things that people would use on the day-to-day."
Students in Oklahoma Contemporary's ceramics classes learn use a variety of techniques to create their pieces, and Delliquanti said the arts center plans on expanding the program when it moves to its new campus at NW 11th Street and Broadway Avenue in fall of 2019.
"It's everything from hand-building to throwing-on-the-wheel pottery to more advanced explorations in ceramics," Delliquanti said. "It's a program that we are going to be building on as we move to the new space — more classes, more types of classes, more instructors and a broader range of the types of classes that we offer."
Oklahoma Contemporary also offers free weekly classes for military veterans.
"They don't pay anything," Delliquanti said. "Their tools and equipment and clay and everything is covered. … There's an application process, but there's no requirement other than being a vet."
The eight-week classes offer veterans a chance to learn about ceramics while socializing and making personal connections, Delliquanti said.
"There's 12 people in a class, so they're in a class with 11 other veterans," she said, "people who kind of understand their life and what they've been through, and they speak the same language about a lot of things. It's a nice, supportive place for them to have artistic practice and be creative. … The ceramics program really is like this communal place because you have to come there to do it. All the equipment's there — the clay's there; the kilns are there, the glazing room. And you have to kind of rely on other people because you're not the one firing your work."
The ceramics process, from shaping the clay to firing it in the kiln, offers a chance to create a physical object, a rewarding experience, Delliquanti said, but one that requires careful concentration.
"A lot of the feedback that we get from veterans is that the tactile part of it is very important," she said. "Everybody — whether you're a veteran or not — if you put a piece of clay in front of somebody, the first think that they want to do is just grab it, manipulate it. There's something very satisfying about that. And it's a slow process. It's a multistep process, and there are lots of possibility and points of failure, ranging from when you build it till when it dries and you fire it and glaze it. It's a methodical process, and it slows people down."
While other art forms, such as painting and drawing, can be intimidating to people with low skill and experience levels, most of the people taking ceramics classes at Oklahoma Contemporary are novices and have the chance to progress at about the same rate as their peers.
"It feels very democratic," Delliquanti said. "You come in and you're like, 'OK. We're all starting from the same place. We may be experts in some other thing outside of this, but in here, everybody's kind of starting from the same point.' You don't have to feel like you know anything, and that's a little bit different from drawing or painting, where people feel like 'I need to be quote-unquote "talented" to be able to draw,' but with ceramics not so much. It's pretty equalizing across the board. I think that's why it's so successful with veterans and I think it's really easy for adults who have no background to say, 'Yeah, I'll take a beginning class,' and then most people who take a class they just keep on moving on through it. They'll take intermediate and advanced classes. They just keep coming back because it's fun."
Pieces in the ceramics sale (excluding works in the Contemporary Clay exhibition) have all been reduced in price by 50 percent through the end of the sale, and paintings, photographs, handmade knives and many other items created by local artists and artisans are also on view as part of the center's ArtNow exhibition.
Visit oklahomacontemporary.org.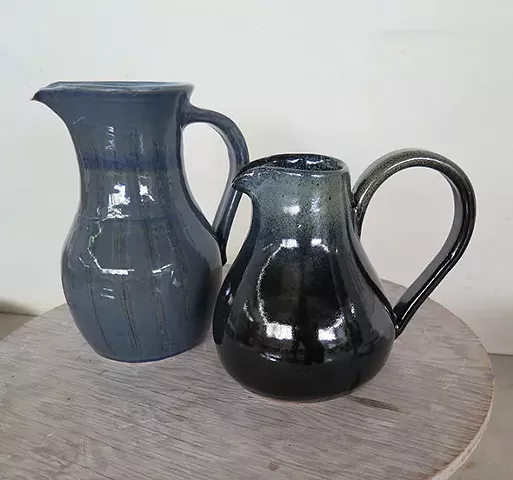 10 slides