click to enlarge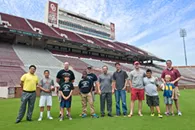 In Homer's Odyssey, Mentor was the name of Odysseus' trusted friend. Before Odysseus, the king of Ithaca, left for the Trojan War, he placed Mentor in charge of his son's bringing and education — the part a father would give his son — as well as the royal household.
The David and Molly Boren Mentoring Initiative, named for Oklahoma Foundation for Excellence founder David L. Boren and wife, Molly, has completed the first statewide survey of youth mentoring programs, providing an analytical look at the services, funding, goals and challenges that our state's youth mentoring programs face. The results of the survey found answers to what is working now and what is needed to make youth mentoring better while focusing on the overall value that comes with it.
The Boren Mentoring Initiative promotes youth mentoring from kindergarten through college and career tech. It networks Oklahoma's diverse mentoring programs, identifies models and best practices, shares information and research and offers free consulting to mentoring programs or communities wishing to begin a program. Taking an analytical approach to this helped clearly define the things that will improve mentoring in Oklahoma.
Based on the Oklahoma Institute for Child Advocacy's Kids Count 2014 Oklahoma Profile and using only the number of children in single-parent homes, 331,000 youths could benefit from mentoring. The number of youths mentored in the survey totaled 32,680 young people. More mentoring programs exist, and some programs chose not to participate in the survey, but the potentially not mentored 298,320 are a call to action.
"Identifying pros and cons is difficult since all information can be used for decision-making by different stakeholders. We believe Oklahomans will roll up their sleeves to volunteer and donate when they see a problem in their communities or state," said Beverly Woodrome, director of The Boren Mentoring Initiative. "Mentoring is ultimately a cost-effective game changer. The identified gap between mentees served in our state's first survey compared with Kids Count data is a road map telling us where and to whom to go."
Woodrome's enthusiasm is contagious, and when one hears "Surveys!" and "Numbers!" it might give one a headache, but deep-rooted passion has never been more prevalent in statistics than it is behind the survey's director.
"That 40 percent of the reporting programs have a budget below $25,000 means a few dedicated people are working very hard and could benefit from help," Woodrome said. "How stressful would it be for you with so few resources to serve multiple people once a week for a year? That among the top three funding sources are individuals at 50 percent, followed by foundations at 31 percent and corporations at 26 percent shows that Oklahomans are willing to take care of their younger fellow citizens themselves."
Mentoring organizations report that their biggest challenge is recruiting adequate numbers of mentors, and recruiting enough male mentors is both a state and national challenge.
"People can apply to be a mentor in one of many types of structured mentoring programs. Community leaders can begin new mentoring programs. Individuals can donate to mentoring programs. On the front end, actual mentoring is the easier part, although building and sustaining a solid relationship with a human of any age can have challenges. On the back end, staff, volunteers and even board members are working extremely hard to perfect, oversee and sustain programs," Woodrome explained.
Humans thrive on relationships, and Woodrome believes mentoring provides a unique relationship.
"Mentors can show younger people their potential, point out options, discuss choices and consequences, build confidence, model positive behaviors and attitudes, lend a nonjudgmental ear or just be a special friend just for that youth," she said. "Mentors invest their irreplaceable time to be present for a youth and give them tools for the future. Those tools encompass everything from etiquette and hobbies to resiliency and consistency."
click to enlarge
Regional programs
The survey achieved its goal in establishing baseline data and providing useful information. But how does Oklahoma compare to other states?
Oklahoma is on par with other states, although it is still in its "childhood" of recognizing the need for and learning about the variety of adaptable quality mentoring programs. For example, Oklahoma County Judge William Robert Saied established the Big Brothers Big Sisters program in Altus in 1951 to keep youths out of trouble. As more Oklahoma leaders identify and act on obvious needs, they create mentoring programs tailored to their own communities.
Fairview Public Schools Superintendent Rocky Burchfield was raised by a single parent and mentored. He drove the development of Mission Mentors, a hybrid-mentoring model embraced by the entire town in 2011-2012. Inspired by Fairview's success, Leedey Public Schools Superintendent Rusty Puffinbarger and teacher Kris Gore developed the B.I.S.O.N. mentoring program for their one- building school in a community of 450, Woodrome said.
Those examples only add to what the survey found: Mentoring works and is needed.
Oklahoma University football coach Bob Stoops and Oklahoma State University's coach, Mike Gundy, have joined The Boren Mentoring Initiative to promote Coaches Mentoring Challenge.
"As coaches, we have the opportunity to positively influence the lives of our athletes both on and off the field," Stoops said. "However, more and more youth are in need of a positive role model."
In partnering with the Boren Mentoring Initiative, Stoops and Gundy are sending letters to college and high school football coaches throughout Oklahoma, encouraging them to also endorse and support the mentoring campaign in their communities.
"In an effort to help close this 'mentoring gap,' we are joining the Coaches Mentoring Challenge to encourage our fans to become mentors to local youth in need of positive adult influence in their lives," added Gundy.
With the first statewide survey's findings and partnership with the Coaches Mentoring Challenge, The Boren Mentoring Initiative has strong momentum going forward.
click to enlarge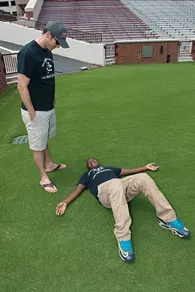 Print headline:
State of mentoring:
A new survey finds Oklahoma needs more mentors.