click to enlarge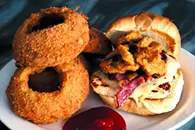 Someone with an entrepreneurial spirit might be interested in opening a small motel in the empty storefronts near The Miller Grill in Yukon, because some very happy people are going to be very sleepy.
Formerly a Big Ed's, The Miller Grill, 326 Elm Ave., is under new management, and the team in charge has a clear goal in mind: Feed customers into a coma.
"We want to have people say, 'Wow,' when the food hits their table," said general manager Jason McCormack. "And when they leave, they'll need a nap because they are so full."
That's because McCormack and co-general manager Mikeal Copeland are serving up monster-sized portions of some Oklahoma favorites: big burgers, gargantuan chicken breast sandwiches and chicken-fried steaks that would sate the largest of appetites. But it's not enough for the food to be big — it also needs to be good. And McCormack, formerly of Irma's Burger Shack, has plenty of experience finding flavor combinations that please the palate.
Take, for instance, the Bronco Buster, which pairs a third-pound patty of local beef with fried jalapeño, pepper jack cheese and a house-made chipotle ranch dressing. At $9.49, it's not a cheap burger, but The Miller Grill is counting on customers who are willing to pay for quality.
That's why the focus has shifted from fast and cheap to made-from- scratch and made-in-Oklahoma products.
"We are always striving to make real food," said McCormack.
And it doesn't get much more real than the onion rings.
These must be seen (and tasted, too, if customers have any sense) to be believed. The onion rings are massive, with a lightly battered crust that isn't overly sweet but lets the flavor of the onions shine through.
If you're in the mood for something different, the hot and piled-high Fungi & Swine sandwich ($9.99) is grilled or crispy chicken with breaded, deep-fried mushrooms, bacon and Swiss cheese.
And if you're talking big, there's no point avoiding the Indian tacos. At $10, this is a State Fair classic done better than ever. The fry bread is massive, tender and tasty, piled high with ranch-style beans, ground beef, lettuce, tomatoes, onions and cheese.
On Tuesdays, Miller Grill holds an Indian taco challenge that has yet to be bested. (Probably because it's nearly eight pounds of food, but still.)
Now, chicken-fried steak is a signature meal in Oklahoma, but far too many restaurants are going the cheap and easy route, with pre-made patties thrown into a fryer. Miller Grill isn't taking any shortcuts, and it's easy to tell. This is a plate of cubed steak breaded and fried when you order it. The mashed potatoes on the side are tender, homestyle and delicious. And the gravy — oh, the gravy — is a steal at $11 because it's at least two meals in one.
The Miller Grill isn't going to win any healthy menu awards. Frying is definitely a big part of the menu, and the portion sizes are definitely meant for competitive eaters or very hungry bears.
But anyone looking for food that tastes good and is made honestly might want to venture out west to Yukon.
And they might want to skip a meal beforehand to make room.