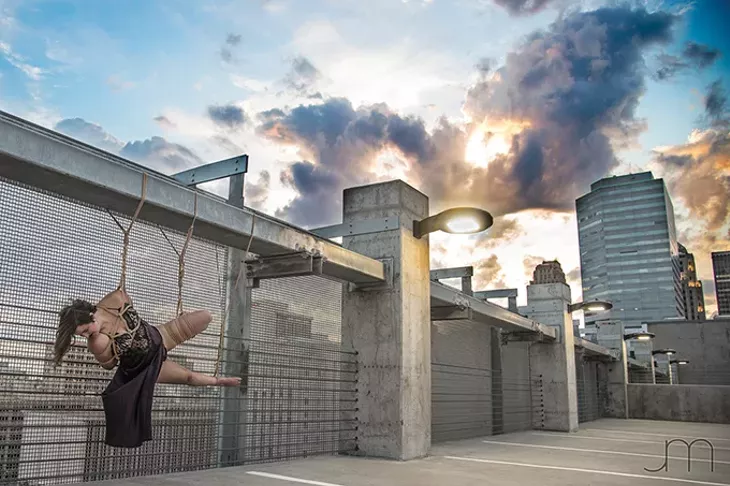 In the beginning was the Sleaze Ball, but spontaneous bob doesn't recall anything before Biting the Apple.
"It started as the Sleaze Ball," said Individual Artists of Oklahoma board president David Smith, who makes art under the name spontaneous bob, describing the origins of the erotic art show IAO holds as an annual fundraiser. "I have very little information on the Sleaze Ball. That was before my time."
Sometime in the mid-'80s, IAO inherited the Sleaze Ball and renamed it Biting the Apple.
"It might have been an attempt to class things up a bit," Smith said. "But why?"
Though the art show is definitely older than 18, Smith said he's not sure exactly how old Biting the Apple is.
"I think there's some sketchy numbers in our dark and sordid past," Smith said. "I remember seeing the 30th anniversary posters, but according to math that I'm doing, it's the 27th. So somewhere along the way, there's a weird disconnect in the math."
An internet search for "Oklahoma City Sleaze Ball" returns instances of local name-calling but no information on an erotic art show. Smith said he has been involved with IAO off and on since 1987. The 27th/33rd annual Biting the Apple is 7-10 p.m. Friday and 8 p.m.-midnight Saturday at IAO, 706 W. Sheridan Ave. Because the show has been scheduled for August instead of the customary May date, this year's theme is Summer Lovin'. The show's Grease-referencing theme directly inspired at least one of the artworks being exhibited.
"We do have a cross-stitched 'Home Sweet Home'-style image of Sandy getting it on with, definitely taking the dominating lead, in a little appeal with Danny," Smith said. "It's cross-stitch. It's kind of tongue-in-cheek. It's definitely shocking. Well, not shocking. Surprising, let's say."
"There are a lot of pieces in the show that would be hard to show anywhere else in Oklahoma, certainly."—David Smith

tweet this
Another of Smith's favorite pieces in this year's show is a painting by Norman artist Laurence Myers Reese.
"It's a very classic watercolor on paper, very traditional," Smith said. "There's a lovely display of food, like someone has set out a picnic; there's fruit and a plate and a drink, and a big feathered butt-plug right there among the food so you're like, 'Oh, OK. That's happening.' I like those with a little surprise."
Questionable content?
Smith said part of Biting the Apple's appeal for artists and patrons is that it offers a chance to exhibit artworks that might otherwise be rejected by local galleries.
"There are a lot of pieces in the show that would be hard to show anywhere else in Oklahoma, certainly," Smith said. "Just because of the climate of the area and the nature of the work."
While nude human figures have featured prominently in art for longer than recorded history, Smith said the show's definition of erotic art is more specific.
"I think erotic art appeals more or relates more to physical and sexual feeling rather than just being physical form," Smith said. "It actually has that sexual connotation to it, that physical desire."
Within that definition, Smith said artists featured in this year's show have created "big, big spectrum of artworks," including "everything from very abstract, street-style work to acrylic or oil paintings on canvas." Though Smith said there is a line between erotic art and pornography, no artworks were rejected this year for crossing the line. In recent years, possibly because of the uncensored nature of the internet, Smith said he thinks outrage over the show's content has decreased significantly.
"We used to have protesters, and as much as I don't want anyone being upset, it was great publicity," Smith said. "Obviously, you know, it's all above-board and legal, the curtains are closed to the gallery so no one can look into the windows, and it's 21-and-up, and it's all on the up and up. It's just a little sexy."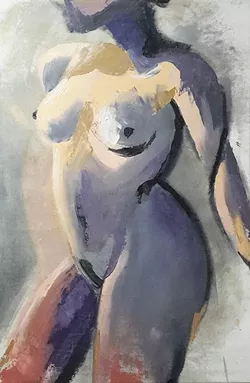 Risque fundraiser
Biting the Apple serves as one of IAO's largest fundraisers for the year. Smith said the funds will go toward sponsoring the gallery's ongoing events including two monthly poetry readings and after-school art education programs for elementary school students.
"All of that is provided free to the artists and participants," Smith said, "and all that is funded by these fundraisers, donations and memberships. We do occasional film screenings and musical performances. We try to keep to as broad a reach as we can so we're touching all the arts in Oklahoma."
Previous Biting the Apple events have been held on a single night, Smith said, but this year, the show is spread out over two nights to better compartmentalize the art exhibition and party aspects of the event.
"The two nights are very distinct in their energies," Smith said. "Friday night is primarily the art opening. The artists will be there to show their work. We'll have an erotic poetry reading with seven to eight poets reading throughout Friday night and acoustic music by Janice Francis-Smith, who is a local singer songwriter, and it's more of a smooth sexy, if you will. Saturday is more the wild beach party with DJ Ostara. There will be dance music, we've got performers from Teaze Dance & Fitness and Oklahoma Showgirls. We hope to have some go-go dancers that pop up and dance on pedestals, male and female, a little swimsuit dancing. We'll have three different performance spaces. We have an aerial act going in one space. We have a drag performance and video screenings in the second area, and the main gallery is dancing, the visual art and some other surprises. … In the past, we've tried to do it all in one night and you get the DJ going and then try to read a poem and it's hard to reconcile. The pun around the table has been Friday is the 'soft' opening, and Saturday is the 'hard' opening."
Tickets are $25-$30 and are good for both nights. Saturday night's schedule of events includes a "sexy swimwear" competition with cash prizes, and beachwear is encouraged.
Visit individualartists.org.