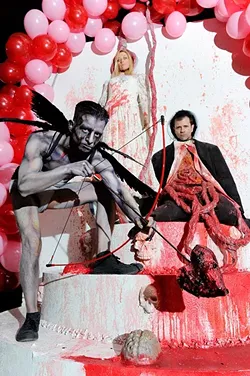 It might be difficult for some to imagine, but there was a time when public displays of affection were a big no-no. Holding hands was something good boys and girls did not do, and public kissing was shocking.
There were places where teenage canoodling wasn't against the rules and adults tended to look the other way. The drive-in was one place couples could have some private time.
The Tunnel of Love at the carnival was also a favorite. Usually in the form of a water ride or slow-moving coaster, private cars wound their way through a dark ride with a few scares. The designers knew just what they were doing. They placed one couple per car or boat and spaced them in a way that allowed couples a chance to have more than one kind of ride.
"It gave you the ability to make out a little bit on the mellow parts, and during the parts that were scary, it gave you a chance to snuggle up a little closer," Tino Pascuzzi said.
Pascuzzi and his wife, Cathleen, are special effects specialists and horror buffs who delight in creating entertainment to scare, get a laugh and cause you to lean closer.
Cultivating scares
OKC's new Tunnel of Love, a walking tour of a house of horrors, was inspired by the couple's nostalgia for the type of ride that lovers could take to be alone. They wanted to recreate it and make it as scary as possible.
"We thought, 'How cool would it be to make this a walk-through creepy version of the classic Tunnel of Love,'" Pascuzzi said.
The theme is tragic couples of history, both real and fictional. There are about 70-100 actors a night, and the handmade set is movie-quality down to the last detail.
However, this version has a significant theatrical difference: It is veiled in total darkness, and there's only a small torch to guide your way.
"We've all seen the movies and video games like Silent Hill and Resident Evil where there are parts where you only have a flashlight to guide you," Pascuzzi said. "You're in the dark, discovering these creepy things as well as the creatures that are coming out for you."
The results can be horrifying. But there are moments of hilarity and breaks in the action; otherwise, it would be too intense. Pascuzzi said that in a show like this, darkness becomes another character.
When one sense is handicapped, other senses become heightened to compensate. There are sights, sounds and even smells to enhance the experience.
Complete involvement is the couple's goal, and they've had years to hone their craft. Anything that enriches the tour is part of their arsenal.
"If we could touch on one thing that affects everybody," Pascuzzi said, "any emotion that we evoke that makes the experience above and beyond, then we've done our job."
This is the first completely dark haunted house that the couple created from beginning to end. They also operate The Sanctuary during Halloween and Santa's Slay House during the holidays. Year-round, they own and operate Voodoo Lounge, 530 S. Broadway Ave.
They have done blackout nights at The Sanctuary but never planned one in which the actors and scenery are lurking in the dark rather than in your face like they are at Tunnel of Love.
"We've had to retrain our actors," Pascuzzi said. "They are taught to be this kind of affront, this wall of terror, and now we're asking them to be restrained; they need to be discovered."
Family affair
The couple did a Valentine's Day attraction last year, and the response was better than they could have imagined. About 1,000 people attended each night. This year, with a forecast for nice weather and more exposure through social media and advertising, they hope to double that number.
The two moved from California five years ago, where they worked in special effects for the film industry. They started making haunts for fun. Now, they are able to do it full-time.
"My wife and I have been so fortunate it's been incredible," he said. "Now the kids are involved, the whole thing is a family affair."
At the exit, there are opportunities for photos of your special night. One is a cake topper depicting a bride and groom who met a grisly end, and the other is an iconic swan paddleboat from the Oklahoma City Zoo. It was turned into a zombie swan for this occasion. It will return to the zoo unharmed after the holiday.
Print headline: Bleeding hearts, The creators of The Sanctuary want you to have a frighteningly memorable Valentine's Day.