During Oklahoma City Restaurant Week, which runs Friday through June 18 at 29 participating eateries across the metro, each venue offers specially priced menus so diners can enjoy a sampling of cuisine.
While each is happy to welcome new and longtime customers, OKC Restaurant Week also serves an important benefit to the community: The nine-day event raises money for Regional Food Bank of Oklahoma, which feeds more than 126,000 people each week who are facing food insecurity.
Taking part is easy. Visit okcrestaurantweek.com to learn more about participating venues and their menus. When you find one you like, visit the restaurant and let your server know you would like to order from the special OKC Restaurant Week prix fixe menu. Then enjoy your meal knowing that $1 of each lunch and $2 of each dinner sold will be donated to the food bank.
Reservations aren't required, but they are recommended.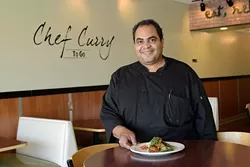 First impressions
Owner and chef Kendall Curry of Chef Curry To Go, 5701 N. Western Ave., offers a special OKC Restaurant Week prix fixe lunch menu featuring a choice of salad or jalapeño bisque with an entree of either grilled salmon with orzo salad or a hoisin burger for $15 per person.
"I wanted to do something a little different than what we've been doing here," he said. "The salmon dish is nice and summery; not too heavy for the temperatures outside."
The seasoned and grilled filet comes with an orzo pasta salad with artichoke hearts, capers, Kalamata olives, red onions, bell peppers and feta cheese.
"I like to use colors," he said. "It's a way to blend in different vegetables and proteins."
Utilizing more than a quarter century of fine dining experience, including a decade-long stint at Ranch Steakhouse, Curry is an expert at adding those little touches that elevate a dish.
"I consider myself a comfort chef," he said. "I'm shooting for something that is palate-pleasing as well as stuff you don't find in a lot of restaurants."
People might not think of jalapeño as a main flavor in soup, but Curry's bisque will change that.
"The last time we ran the jalapeño bisque, it was a big crowd pleaser," he said.
Curry roasts fresh jalapeños before discarding the webbing and seeds from inside them, which reduces their heat. He then removes the charred skins and purees the peppers before adding them to the cream base. The resulting soup is thin and smooth with the fresh flavor of jalapeños but a fraction of the heat.
Curry said OKC Restaurant Week is an opportunity for him to introduce his cuisine to the community.
"That's been the biggest thing with us — people not knowing we're here or thinking we're a Middle Eastern restaurant because of my name," Curry said. "I finally broke down and put a chicken curry on the [daily] menu for a while because people were asking."
His years in the industry have taught him how to creatively accommodate his customers' desires.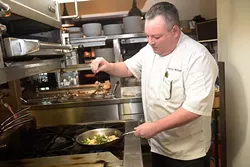 Starting fresh
Another fine-dining chef puts his skills on display during OKC Restaurant Week. Chef Patrick Williams recently left his position at Vast to take over the kitchen at sister restaurant Flint, located inside the Colcord Hotel at 15 N. Robinson Ave.
Flint's prix fixe lunch menu includes a choice of vegetable pozole or Caesar salad with an entree of either a short rib po'boy with fries or a bowl of red beans and rice with hickory-smoked pork over jasmine rice for $15 per person. Its prix fixe dinner menu offers a choice of vegetable pozole or Caesar salad, entrees of either braised boneless beef short rib or lemon-and-herb-stuffed rainbow trout and dessert options of Key lime pie or carrot cake for $35 per person.
Williams said he's looking to refine Flint's concept.
"It's been rather loose," he said. "It's American food, and it's had some influences from around the world, so I'm trying to develop around the flavors of Oklahoma."
To his palate, the Sooner State draws on three regions for its unique flavor: the Deep South, the Midwest and the Southwest.
"We'll be using local products whenever possible and really try to hit on the heart of the flavors," he said.
He considers his OKC Restaurant Week menu as kind of a primer for what Flint's menu will become.
"The short rib dish is only going to change a little bit, with the vegetables and things that go with it changing seasonally," Williams said. "It's basically a Midwestern pot roast done with short rib."
Another sneak peek for customers is the pozole, a Southwestern soup made with hominy. It will eventually become Flint's house soup and will also change with the seasons. Williams said the restaurant will phase out the current blend of zucchini and squash for a soup of pumpkin and poblano peppers in the fall, but it will remain vegetarian.
"We're not unleashing the full menu changes until July," he said. "Some of the menu is where we're going and getting staff trained on new menu items."
Visit okcrestaurantweek.com.
Print headline: Menu moves; Oklahoma City Restaurant Week, happening Friday through June 18, gives local chefs an opportunity to showcase new flavors.