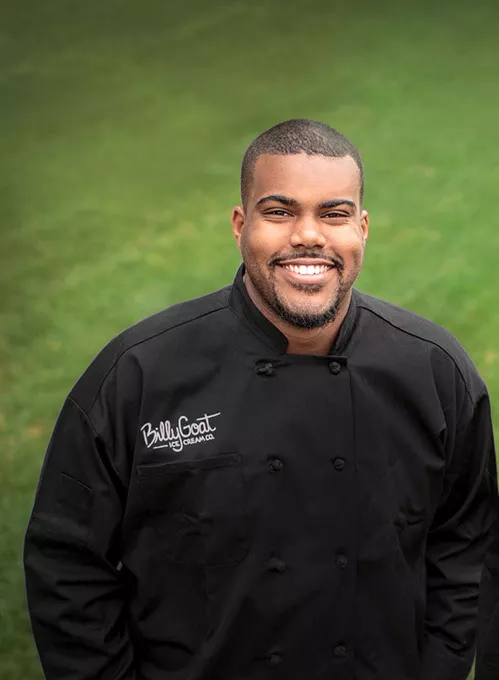 More than 65 percent of the world's population drinks goat's milk, but in the United States, it's rarely seen outside of cheese.
A Stillwater-based business has taken goat's milk and applied it to the country's favorite dessert: ice cream.
Billy Goat Ice Cream Co. began as a kernel of an idea when Kansas City native RaShaun Robinson was in the MBA program at Oklahoma State University (OSU). A little more than two years later, the product is available statewide and one of two goat's milk ice cream companies in the nation.
The fat molecules in goat's milk are smaller than traditional cow's milk, which makes it easier for humans to digest. This is welcome news for the third of the population that suffers from lactose intolerance. Goat's milk is lower in fat and calories than the whole milk variety of cow's milk, according to the USDA.
Robinson was exposed to the health benefits of goat's milk while an undergraduate at Langston University, which houses the American Institute for Goat Research.
"It's the closest dairy product to your mother's milk in nature," Robinson said.
He began to think about a business plan that could benefit rural communities while an undergrad and kept it percolating until arriving at OSU.
"America's favorite dessert is ice cream," he said. "Why don't we make it with goat's milk? We want to take those health benefits and apply them to a dessert that is considered 'sinfully delicious.' We combined natural ingredients to make it something that is better for you [than normal ice cream]."
Incubating business
Robinson and co-founder Caleb Neil presented the idea for Billy Goat Ice Cream at the university's pitch and poster competition. Billy Goat took home a $1,500 first place prize in the competition, which requires entrants to present a business idea, value proposition and more.
Soon after, Robinson and Neil had set up in the university's incubator and finished the business plan while finishing their master's degrees.
"It's been fantastic to watch," said OSU assistant professor Richard Gajan, who works with individual students on their business proposals. "RaShaun has been incredibly resourceful. Over the years, I've worked with a lot of start-ups, and they rarely hit their sales forecasts, but RaShaun never ceases to amaze me."
Gajan said Billy Goat Ice Cream Co. is one of three businesses out of 40 that participated in the competition to become a fully-fledged business.
Robinson worked with Gajan to secure a USDA grant through REI Oklahoma because Billy Goat uses three Oklahoma goat farms to supply the milk and as many local flavor ingredients as possible. Robinson credited the grant for allowing the company to get off its feet. They sold their first order to a local Walmart in April 2015, a month before graduating.
"When we first started, we had buddies that came in and helped us hand-pack everything. Oh my gosh; we'd be exhausted by the time we got home," Robinson said.
The company now has an automatic depositor for packing and an ice cream machine that produces every 10 minutes. Robinson said it took four hours to make by hand.
Billy Goat moved to an off-campus incubator facility that gave them room for production and storage, but after agreeing to a deal to be in all 11 of the state's Sprout's Farmers Market stores, Robinson is in the process of finding a bigger facility.
Billy Goat ice cream is also available at Walmart, Natural Grocers, Homeland, Whole Foods, OnCue Express and Crest Foods in the Oklahoma City area.
"When we started, we were 10 cases here and 10 cases there, but we recently switched to a palate system," Robinson said. "We're at a bit of a storage capacity issue [in the current facility], but that's a good problem to have."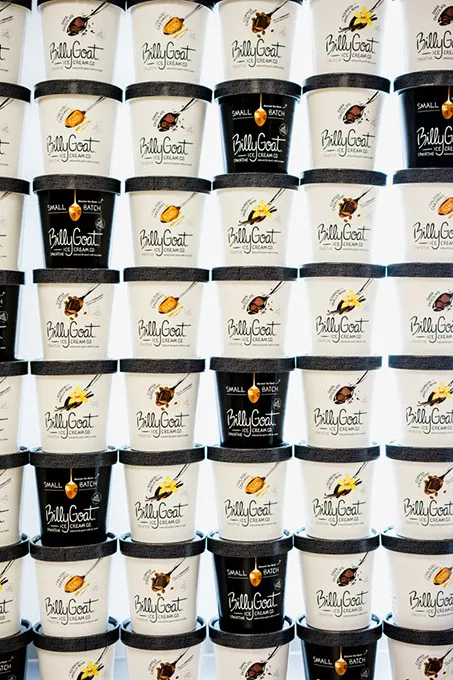 Flavor concoctions
Robinson said there hasn't been a traditional flavor combination that hasn't translated from cow's milk ice cream to the goat's milk variety. Billy Goat Ice Cream Co. features bourbon vanilla bean, coffee cacao chip, dark chocolate, garden mint and salted caramel as year-round flavors. Blueberry ginger, chocolate chip cookie dough and roasted strawberry balsamic are small-batch varieties.
"I tried to come up with a pear and blue cheese flavor," Robinson said. "We wanted to be fancy, but it was horrible. That's what I get for trying to watch the Food Network. Not everything works together."
A half-cup serving (79 grams) of the bourbon vanilla cream has 110 calories 4 grams of fat and 16 grams of sugar. By comparison, a 100-gram serving of Häagen-Dazs vanilla bean has 249 calories and 17 grams of fat and 20 grams of sugar.
The FDA classifies frozen dessert as traditional dairy like Haagen-Dazs and Talenti and non-dairy like Halo Top. Robinson said goat's milk allows his product to be classified alongside other dairy products, but with the health benefits of the nondairy side.
"We don't add anything," Robinson said. "It's pure cane sugar and coffee that we've roasted. All of the milk is from grass-fed goats."
Taste test
I purchased a pint of Billy Goat Ice Cream Co.'s dark chocolate flavor from a local Walmart, where it retailed for $5.54, about 70 cents more expensive than its Häagen-Dazs counterpart. I was curious how much impact the goat's milk has on the ice cream.
The first thing I noticed was that the texture is a little more sticky and gooey than traditional ice cream, but that also means it won't freeze rock-hard and be impossible to get out of the container.
The goat's milk does give the ice cream an earthy character that's reminiscent of goat's cheese, but it compliments the dark chocolate well. With 21 grams of sugar in one serving, it seemed like the higher amount of sugar was added to counterbalance the goat cheese flavor. I would've preferred it to be slightly less saccharine, but it was very good and something I would buy again. I will gladly pay a slight premium for a product that supports Oklahoma businesses and cuts calories while still providing full-bodied flavor.
Print headline: Bovine-free; Stillwater's Billy Goat Ice Cream Co. uses local ingredients for a healthier product.