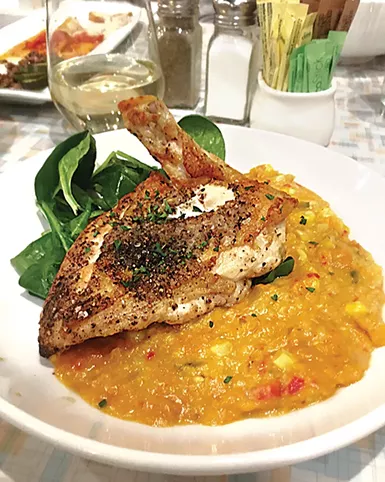 Almost a year after Jamie and Jordan Winteroth opened their first restaurant, Social Deck + Dining, the couple has expanded into a mini restaurant group — Shared Plate Hospitality — by bringing back breakfast favorite Aurora Breakfast, Bar & Backyard to 16th Street Plaza District after a five-month hiatus with expanded hours and offerings.
The Oklahoma City dining scene was dealt a shock when former owners Aimee and Jeff Struble surprisingly announced on social media that Aurora was closing June 30, despite being a runaway breakfast hit, but that was also part of the problem for the founders, who have a lot of proverbial irons in fires.
"Aurora wasn't an unsuccessful business," Jamie Winteroth said. "It was their passion for [the Strubles] to own the restaurant, not to have to manage it."
The last week of November — just two weeks after the Winteroths and business partner Cody Barnett closed on the space — not only did Aurora reopen to the public, but it's also now open for dinner service. Service is 7 a.m.-2p.m. Tuesday-Thursday with dinner going from 5 p.m. to 10 p.m., 8 a.m.-3 p.m. and 5 p.m.-10 p.m. Saturday and 8 a.m.-3 p.m. for Sunday brunch.
The Winteroths brought in chef Sam Tangren, whom Jordan knew from his days as manager with A Good Egg Dining Group. Tangren helped execute a dinner menu of new American items that showcase high-quality ingredients with simple preparation, which is also an ethos of Social Deck + Dining, 1933 NW 23rd St.
The dinner menu is built around familiar items elevated through preparation, which can be highlighted by the salt-and-pepper chicken. A brined airline chicken breast is sautéed until the skin is crispy and served over wilted spinach and a side of corn purée that's like an elevated creamed corn with charred onions and jalapeños. The cage-, hormone- and antibiotic-free chicken arrives from Redbird Farms in Iowa.
"The salt-and-pepper chicken is the centerpiece of the dinner menu," Winteroth said. "We love that dish. The chicken is really important to use because it's thoughtfully sourced. The dish is so simple and easy. The chef was like, 'I can't believe we can serve chicken like this and it's so delicious.'"
Other dinner favorites include shrimp and grits with a tomato-based sauce, brown butter haddock, seasonal vegan risotto, entrée mac and cheese, salads that range from classics like spinach with dried cherries and strawberry mint vinaigrette and arugula Caprese to unique items like the zucchini with raw zucchini noodles, celery, carrot, mushrooms, onion, tomato, sesame seeds and ginger soy vinaigrette.
"The salt-and-pepper chicken is the centerpiece of the dinner menu."
—Jamie Winteroth

tweet this
Aurora is using Destiny Farm to supply a chef's selection of steak that is in limited supply. It has served both hanger and petit rib-eye preparations in the first weeks of service. It has been the most popular dinner item, followed by the Bolognese made with Della Terra pappardelle, beef, housemade sausage and peas.
"The bowl used for the Bolognese usually comes back licked clean," Winteroth said.
The breakfast menu is largely untouched, but a few redundant items like an egg sandwich and an egg biscuit have been streamlined to only the biscuit variety, which is made with thyme buttermilk and baked by Aurora's original baker, who also makes its daily cinnamon rolls and scones.
Aurora's tiramisu pancakes, which featured an appearance on Cooking Channel's Cheap Eats, has been replaced by a Boston Cream Pie version in addition to buttermilk and banana nut versions.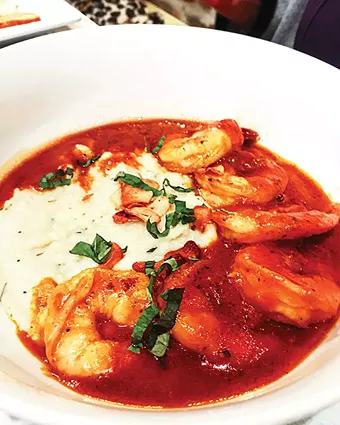 Building off what they learned by operating Social, the Winteroths have learned to keep a literal note anytime a guest has a suggestion.
"There is a notebook, and it always gets updated anytime someone asks for something that didn't make the cut, like lox," Winteroth said. "Maybe when we do a seasonal change, we will consider some of these items. There have been many requests like for the veggie biscuit, which we had no idea was so popular. We have all of the ingredients in-house, so we'll just make it for anyone if they ask."
The Winteroths were able to rehire a handful of servers and baristas, on which Winteroth said she is leaning as she still learns customer expectations. The new version of Aurora is also employing more kitchen staff than the original version to handle the additional service.
"We could not be more thankful to the Strubles that they created an environment where people want to come back and they feel welcome," Winteroth said. "We didn't want to change Aurora 100 percent; we wanted to make sure that a business that was already successful remained that way."
Social Deck + Dining is officially celebrating its one-year anniversary in early January. The actual date is in late December, but it has been pushed after dealing with the stress of reopening Aurora. Aurora will work in conjunction with Social under the Shared Hospitality umbrella on various monthly community giveback programs that highlight a different local nonprofit each month.
"When you work for us, we want them to have genuine hospitality," Winteroth said. "I can teach you how to cook and wait table, but I can't teach you to be genuinely gracious to your guests, and that's what it is all about. … If we take care of the employees, they will take care of the guests."
Visit shinewithaurora.com.