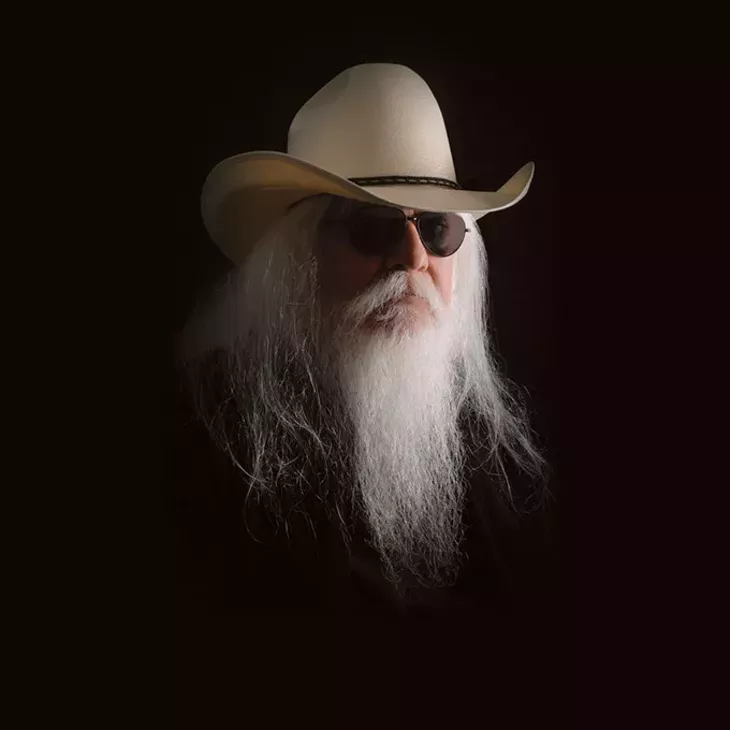 For a white-hot period from the late '60s into the early '80s, Tulsa was the rock 'n' roll universe's big bang. At its center was Lawton-born Claude Russell Bridges, who became famous as Leon Russell.
The longtime songwriter, producer and musician died in his sleep Nov. 13 at age 74, his wife Jan confirmed in a post to Russell's official Facebook page.
Russell made his early career in Tulsa, where he was the progenitor of a style of music that blended rock 'n' roll, blues rock, R&B, country and rockabilly and became known as the Tulsa Sound. Today, it is often associated with Southern rock. He worked alongside Oklahoma contemporaries like J.J. Cale, David Gates and Elvin Bishop. His most well-known songs include "This Masquerade," "Tight Rope," "Delta Lady," "Superstar"(co-written with Bonnie Bramlett), "Blues Power" (co-written with Eric Clapton) and widely covered "A Song for You."
"He was the lynchpin of a whole sound," said John Wooley, a Tulsa-based writer, musician and Oklahoma music historian who has spent decades studying the Tulsa Sound to which Russell was integral.
In July, Russell had a heart attack but was reportedly on the path to recovery and was planning a return to touring in early 2017. In a 2013 interview for the Tulsa World, Russell told current Oklahoma Gazette editor-in-chief Jennifer Chancellor that he had no plan to retire.
"I've actually heard about the concept of retirement but hadn't considered it for myself," Russell said. "As my friend Willie Nelson once said, 'People like us don't retire.' I guess he would know."
Jeff Moore, director of the upcoming Oklahoma Museum of Popular Culture (OKPOP), which will celebrate the state's historic contributions to music and popular culture and be headquartered in Tulsa, said he, like many others, was shocked to hear about Russell's death.
"You look at his career, and it spans 60 years," Moore said. "He's worked with the who's who in the music industry. He's played with everyone from Willie Nelson and George Jones to Eric Clapton and George Harrison."
Part of Russell's legacy is the breadth of musicians and genres he performed with and influenced. Elton John teamed with Russell to record the acclaimed 2010 album The Union. John tweeted his condolences the morning of Russell's death.
"My darling Leon Russell passed away last night," John wrote. "He was a mentor, inspiration and so kind to me. I loved him and always will."
In 2011, Russell was inducted into both the Rock & Roll Hall of Fame and the Songwriters Hall of Fame. He was inducted into the Oklahoma Music Hall of Fame in 2006.
As a studio musician in the '60s, Russell played on many of the decade's most popular songs, including those by The Byrds and Gary Lewis and the Playboys. He also was a member of iconic and controversial producer Phil Spector's studio band the Wrecking Crew and played on The Ronettes' "wall of sound" classic "Be My Baby" and on Jan & Dean's hit "Little Old Lady (from Pasadena)."
He later produced and played in recording sessions with Bob Dylan, Frank Sinatra and The Beach Boys.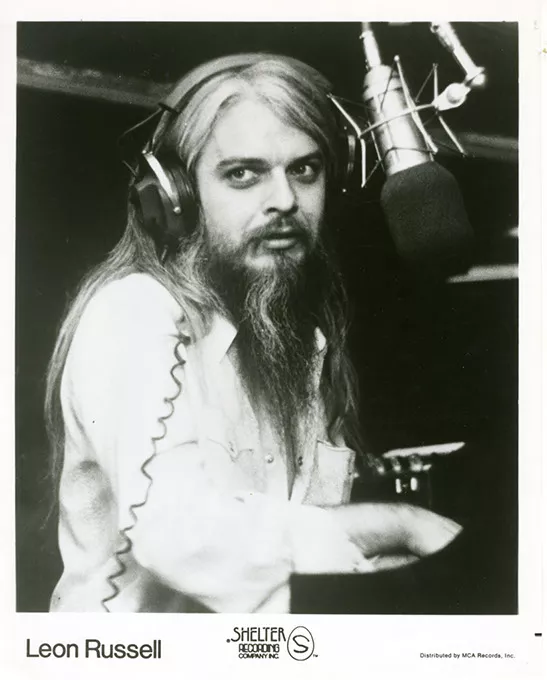 The height of Russell's solo popularity came in the '70s with the release of his self-titled 1970 debut and 1973's Leon Live, recorded during a performance in Long Beach, California. He released One for the Road in 1979, an eclectic duet collaboration with Willie Nelson.
In 2014, Russell released Life Journey, his last studio album. In its liner notes, the musician noted that he was nearing "the final exit of [his] journey."
"A Song for You," written by Russell in 1970, has been covered by The Carpenters, The Temptations, Willie Nelson, Herbie Hancock (in a collaboration with Christina Aguilera) and, perhaps most famously, Ray Charles. Charles won a 1994 Grammy Award for Best Male R&B Vocal Performance with the song.
Moore mentioned that Canadian songwriter Leonard Cohen died just six days before Russell and said music lost two of its greatest songwriters.
Russell's career will be prominently featured in the OKPOP museum, which will be built and managed by Oklahoma Historical Society. The state approved OKPOP funding last year. The museum received a large, private donation of Russell memorabilia in 2013.
"There's some key, pillar stories for OKPOP, and Leon Russell is one of those key pillars," Moore said.
Fellow famous Oklahoma musician, producer and Tulsa Sound contributor Steve Ripley, known in part for his work with country band The Tractors, sent an email statement to the Gazette following Russell's death. Ripley once owned Tulsa's The Church Studio, originally founded by Russell.
"Leon has been a part of our lives for over 40 years," Ripley wrote. "He has been an inspiration, mentor and friend — and, at times, my boss. We have always considered him part of our family and will continue to do so.
"Leon sent me a text message not too long ago, saying, 'The reason for connection is food, music, friendship and tape machines. The strong stuff is just the 'facts of life' (and death). You either laugh or cry,' to which I replied, 'Or some of both.'"
Wooley said some Tulsa musicians of the era have said the Tulsa Sound was less of a tangible scene and more of a collection of friends and companions whose legend and influence have grown with time. He once asked Russell whether the scene really existed.
Wooley recalled Russell's answer: "'Well, I think there is, but I'm the wrong person to ask about it. It's like asking a fish about the properties of water.'"
Wooley said if there is a Tulsa Sound, it exists through the tight bond the musicians form with each other.
"If that's true," Wooley said, "then it was a brotherhood that revolved around Leon."
Print Headline: Song for us, Oklahoma songwriter, producer and musician Leon Russell was an architect of modern rock 'n' roll.