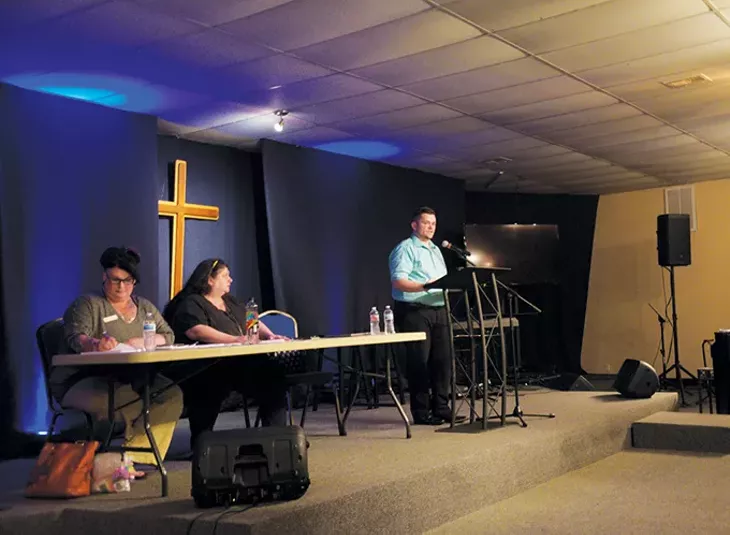 Registered members of the OKC Pride organization gathered for an emergency meeting on the evening of July 26. A crowd of around 100 people packed into Expressions Church in 39th Street District to vote on a sole agenda item: the dissolution of the entire organization.
After nearly two hours of debate and discussion over the wording and procedures within the dissolution proposal and a failed motion to table the vote for a future date, the gathered members voted unanimously not to dissolve OKC Pride.
Despite the vote's result, there was a lack of consensus in the room on how the city's annual Pride celebration should be run in the future.
Such a grave meeting by the most visible LGBTQ+ organization in the city — and perhaps state — came as a culmination of a tumultuous month. A little over two weeks after OKC Pride wrapped up its annual parade and festival event on June 24, The Gayly, a local LGBTQ+ newspaper, published a story detailing alleged embezzlement by Pride president Lori Honeycutt.
Honeycutt has since resigned as the organization's president, but not before calling an emergency meeting for the possible dissolution of OKC Pride.
Honeycutt took over as president of the organization in early 2018 after former president Brandon Odom resigned for personal reasons. Secretary Alison Scott told The Gayly that a background check was never done on Honeycutt after she assumed her position, despite organizational bylaws mandating it. The story connects Honeycutt to a lengthy criminal history of forgery and other convictions under different names over a 10-year period.
Odom, whose name was still on OKC Pride's checking account at the time of The Gayly's report, shared several questionable charges with the paper, including purchases at Dillard's, Pandora Radio, ModCloth, MetroShoe Warehouse, Von Maur, a political contribution through ActBlue and more.
Odom, who is acting as the organization's interim president, said in the emergency membership meeting that they could not discuss allegations against Honeycutt because of an ongoing criminal investigation. However, the interim president did list four outstanding Internal Revenue Service penalties as being among the organization's debts: $4,826.85 for the 2011-12 tax year, $8,757.90 for 2014-15, $3,700 for 2015-16 and a pending penalty for 2016-17. These do not include a potential revenue shortfall Pride might have seen at the end of this year's festival.
It is not yet clear what the vote against dissolution will mean for the future of how OKC Pride is organized; those matters will be settled in the organization's future meetings. Though it has not been dissolved, others point to different approaches OKC Pride could take to the celebration.
Focus needed
When former OKC Pride president Michael Clark first saw allegations of embezzlement against Honeycutt, his first instinct was to call the president and ask her if everything was OK. During his two-year run as president in 2015 and '16, Honeycutt had been an active volunteer with the organization.
Clark said she denied the allegations at first, but over time, it became clear that Honeycutt had a past criminal record.
"The whole thing is just horrible," he said. "Too many people put too much blood, sweat and tears into that organization and that event in all the years it's run to have it fall apart because somebody got greedy and stupid."
Clark said leadership changes, infighting and allegations of theft are nothing new to OKC Pride.
"There have always been political battles back and forth," he said. "Any nonprofit of that scope usually has some level of detractor, but for some reason, Pride seems to be a firebrand. It's unfortunate the organization whose sole purpose is to bring people together causes so much division."
The former president said after speaking with some of the organization's past leaders, he believes the best way to stabilize Pride is to put it in the hands of a full-time, paid director.
"You can't come in as a volunteer, learn all the ins and outs of running a quarter-million-dollar operation with 100,000 attendees and all the rules of nonprofit operation and run it successfully as a part-time, unpaid job," he said.
"We should have a Pride at the level of Dallas or somewhere else." —Lauren Zuniga

tweet this
Prior to the vote, Clark told Oklahoma Gazette he believed the best solution was to dissolve the current organization and let another group like 39th District Association run the Pride celebration.
Past OKC Pride presidents and board members have stressed the importance of volunteers to pulling off a successful Pride celebration. Clark said recent turmoil within the organization is another reminder that the community event should not be taken for granted. It takes hard work to pull off each year, and it is a conceivable possibility there could be a time when the work just doesn't get done.
"The folks who you never saw show up to a meeting and never saw show up to volunteer were the loudest critics," Clark said. "It was like, 'Do you realize how many hours a week I put in all year long and how many 80-hour weeks I put in the week before and the week after Pride? And how much of my own money I've sunk into it?' It's frustrating."
Clark said he will support whichever way the community feels like it needs to go from here. But he hopes everyone is aware of the root problems that cause instability within the organization.
"For this organization to move forward, it would take an outstanding group of volunteers on that committee that have irrefutable community presence or they're just not going to be able to raise any money," he said. "The property owners on 39th are not going to let them close the street for the parade if it's run by people they don't know because they just don't trust them. They'd rather run it themselves than have who knows what happen."
Potential handlers
Lauren Zuniga, director of 39th District Association, said her organization is not making an active push to take over the city's pride celebration but would be capable and excited to take over the event if that is what the community desired.
"If it came to it, we're totally willing to put on the festival and, I think, put it on at a level that Oklahoma City has never seen before," she said. "But we also recognize that this is a community issue and that the community needs to have input and express what they want."
Former OKC Pride president John Gibbons serves as vice president of the district, and Zuniga said his years of experience on the Pride board and as past president would potentially make the organizational transition a smooth one.
Within the city, commercial districts like Plaza District Association and Paseo Arts District run the annual festivals within their neighborhoods. City Pride celebrations are run through a number of different models throughout the country.
"Some cities have it run by a specific organization where that's all they do; there are cities that have it run by an organization as a program of what they do," Zuniga said. "I think if 39th were to take it over, that's how we would run it. It would be a program within what we do."
The director said OKC, as the state's biggest city, is the rightful home of Oklahoma's largest Pride event. While that has been the case in the past, Zuniga sees some room to grow.
"We should have a Pride at the level of Dallas or somewhere else," she said. "I think our standards are kind of low because we've just been doing the best we can with what we have."
Zuniga understands an emotional response to the idea of dissolving the Pride board. A lot of people have a deep connection to the Pride celebration and do not want to see it go away. But Zuniga said there is more than one way to approach it.
"It's not as if dissolving this board means that Pride is over," she said. "It just means that it becomes something different. I think there's other models that would be more sustainable."