An Oklahoma City councilwoman wants to deregulate the city's busking process. JoBeth Hamon (Ward 6) said the change could add vitality and more culture to Oklahoma City streets.
The ordinance was introduced at the Nov. 5 council meeting where mayor David Holt joked the measure might be the first "Twitter-instigated ordinance change in city history."
Hamon first learned about the process for street entertainers and buskers through a Twitter conversation she was tagged in. After that, she began talking with local musicians who were concerned the current ordinance was too cumbersome and prohibitive and discouraged people from busking.
"We have this process right now where if you wanted to do some kind of street performance anywhere in the city, you have to get a permit, which requires going down to the police station, getting background checks, paying a fee and then having to renew that on a yearly basis," she said. "That's just citywide, but if you wanted to … do the street performance in Bricktown, you have to then do another permitting process, which would require another fee and a renewal every year."
"I would hope that it maybe gives some
of our artists and our performers opportunities to get out there and
practice their craft."
—JoBeth Hamon

tweet this
A street entertainer license costs $30 annually. Those interested in acquiring one for performances outside Bricktown Canal must first contact Oklahoma State Bureau of Investigation (OSBI) for a background check and provide various required documents to Oklahoma City Development Center, including an additional background check by city staff, a general application, a street entertainer application and an immigration affidavit.
Another set of rules exists for performances along Bricktown Canal.
Aubrey McDermid, assistant city manager, said Nov. 5 that the city regulated street entertainers in two different places, which is why there are two sets of rules. The first set comes from regulation as a public amusement. The second set of rules comes from the Parks & Recreation department.
"If you want to locate along the canal as a public amusement or a street entertainer, you're subject to a whole bunch of different types of restrictions because they're trying to limit where people could be appropriately offering street entertainment because of the limited area between sidewalks and buildings," she said. "The parks director can issue that permit. It's a $100 permit, and it's only good for a year."
Ordinance change
The proposed ordinance would eliminate the need for a license unless street entertainers plan to perform along Bricktown Canal. However, if the entertainers are using sound amplification, they would need a noise permit or special event permit no matter where they perform.
City staff researched 13 peer cities, none of which required permit or licenses for street performers, McDermid said. Several cities required a permit for sound amplification or if the performance involved multiple people.
"We modeled our change after that," she said. "What this ordinance does is it gets rid of the secondary permit requirement that goes through the parks department, and it moves those specific safety restrictions under the licensing requirement. So if you want to locate along the Bricktown Canal, the parks director has to sign off on it. It's still subject to those location sites that the parks director deems is safe. You would still pay the $30 license fee, still get the background check and you would have that license for a year and reapply annually."
Hamon said she hasn't heard a lot of pushback but expects some people might be concerned about performers blocking pedestrian traffic or aggressively soliciting. While the new ordinance does not address either concern explicitly, the city has other codes and ordinances that address those concerns.
"We do have an ordinance against what I believe is termed in our code as 'aggressive panhandling' or aggressive solicitation," she said. "This kind of permitting process doesn't really change much about what those other things are there to address and cover. You can't block a sidewalk or right-of-way, so there are other things that cover what other concerns may be."
Potential impact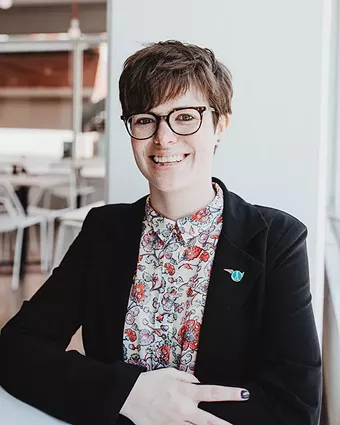 When the current ordinance was implemented by the city council roughly two decades ago, Hamon said the arts culture in Oklahoma City was still just beginning to develop.
"They weren't foreseeing or necessarily expecting what Oklahoma City might be 20 years later as it relates to performing arts, so it sort of felt like it was time to change that and open that up ... for people to access," she said. "I've seen, and I know when a lot of people travel they express getting to see people busking on the street or seeing different kind of performance as being part of this exciting experience they had."
Street performances or busking is relatively common in other cities like Chicago and Austin, and Hamon said she hopes the ordinance change will add some life to streets.
"There's a life and a vitality to that that adds to our streets and community," Hamon said. "We have people coming downtown really often this time of year for Thunder games. … You might go to a game and you walk along quiet streets or maybe you're coming from Bricktown so there's a little bit more going on, but I think there's just an opportunity to kind of add to the fabric of communities that our city seems to be very good at embracing, but we just put up some kind of strange artificial walls to be able to add this piece to our city culture that exists in so many places."
Through potentially more exposure to art on streets, Hamon also hopes that artists will be able to flourish without necessarily booking big venues.
"I would hope that that provides the opportunity to take down those guardrails ... that may have been deterring people from getting out there and doing whatever performance they had, while at the same time offering another venue for performers that are trying to either get exposure without the infrastructure of booking a concert space or a little supplemental income if they open up their guitar case or put out a hat or whatever," she said. "I would hope that it maybe gives some of our artists and our performers opportunities to get out there and practice their craft."
Hamon's ordinance introduced Nov. 5 was approved unanimously and is now set for public hearing Nov. 19 and a potential final hearing Dec. 3. City residents are encouraged to attend and speak in support or opposition of the proposed change. The Nov. 19 meeting begins 8:30 a.m. at City Hall, 200 N. Walker Ave.