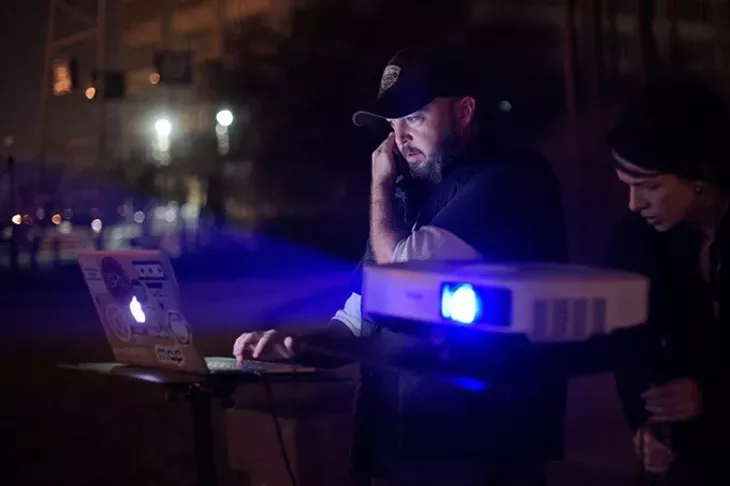 A dusky sky offered Jack Fowler little illumination as he scoured the state Capitol's darkening northern grounds, searching desperately for a working electrical outlet. Light, and the point at which it becomes potentially harmful, has been a reoccurring theme for Fowler since the local artist and outspoken political activist projected an image of Okemah-born folk icon Woody Guthrie Feb. 27 on the large tarp concealing construction on the state Capitol's north end.
Instead of the iconic phrase "This machine kills fascists," Fowler had scrawled, "How did it come to this?" across Guthrie's guitar.
Fowler said the purpose of his protest was to bring attention to years of "shameful" lawmaking by the Oklahoma Legislature. His plan was to shine Guthrie's image on the building each night with a new phrase crowd-sourced from hundreds of suggestions he received from online supporters.
The Office of Management and Enterprise Services (OMES), which oversees the Capitol grounds, released a public statement reminding the public that "projecting images onto the State Capitol is prohibited without the necessary permits."
The Feb. 28 OMES statement also read, "Restoration crews are working at night and … such distractions, when working many feet above the ground, can be extremely hazardous."
As Fowler inspected the perimeter of a nearby state office building for somewhere he could plug in his projector that night, he said of the OMES statement, "When was the last time too much light fucked up a construction site?"
Fowler was searching for a working outlet because the power was cut off to the one he used the night before. He didn't find one on the Capitol's north side. A small generator brought to the site by an acquaintance did not have enough power to run Fowler's projector.
He vowed to return March 1 with a heftier power source. When he did, Oklahoma Highway Patrol officers waited for him and warned that if he were to go through with his projection, they were instructed to arrest him and confiscate his gear, which Fowler said was on loan from a friend.
Over the past four days, Fowler and his project had become popular social media discussion fodder. People wanted to know more about him and whether he was willing to go to jail for his protest. Fowler felt the focus shifting away from his actual purpose, which was to share the public's opinions with the Legislature.
"It all made me uncomfortable," he said in a later phone interview. "The last few days have been very unpleasant."
Fowler decided to his Capitol projections, but his protest is not dead. He said he is working with a friend who runs a T-shirt company that would make customizable shirts with the image. Proceeds would benefit Oklahoma City school art programs.
Fowler also said he spoke with American Civil Liberties Union of Oklahoma executive director Ryan Kiesel, who thanked Fowler for shedding light on the gray area that exists in citizen access to Capitol grounds and public property.
"The thing that excites me is that some tangible results are starting to come out of this," Fowler said.
His projector light got the most attention, but Fowler said the proverbial light shone from his protest is the most satisfying.
Editor's note: Fowler is an Oklahoma Gazette editorial cartoonist and freelance contributor.
Print headline: Bright debate, Officials dim local artist Jack Fowler's Woody Guthrie-themed legislative protest.