Our Mission
click to enlarge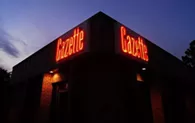 Oklahoma Gazette's mission is to stimulate, examine and inform the public on local quality-of-life issues and social needs, recognize community accomplishments and provide a forum for inspiration, participation and interaction across all media.
Circulation and Readership
Twenty-one percent of the Oklahoma City metro population reads Oklahoma Gazette. It's the largest weekly newspaper in the state, and our editorial, design, advertising and marketing departments have all won state, regional and national awards for excellence.
Oklahoma Gazette prints and distributes 40,000 papers every Wednesday in and around Oklahoma City and Central Oklahoma. Our cume readership is 207,164 readers who read our newspaper at least once per month.
Demographics
Our readers are high-income, highly educated influentials who are active in the community. The mean age of a Gazette reader is 37 and the average household income is $59,174 — substantially higher than the market average. Forty-two percent of Gazette readers have a college degree. Impressive, right?
As you might expect, people who read Oklahoma Gazette are more likely to drink wine, attend concerts and dine out at a restaurant.
To learn more about our readers, contact us.
Our History
It started as a labor of love, a desire to cover and report news in a fresh, unique and unfettered format, and Oklahoma Gazette's first issue circulated 2,000 copies on October 15, 1979.
Our 40 years of sustained success is due to the dedication of our talented staff and our shared commitment to quality journalism.
Fiercely local and independent, Oklahoma Gazette focuses on quality-of-life issues and serves as the metro area's arts and entertainment authority, now circulating 40,000 copies each week and reaching over 130,000 weekly readers.