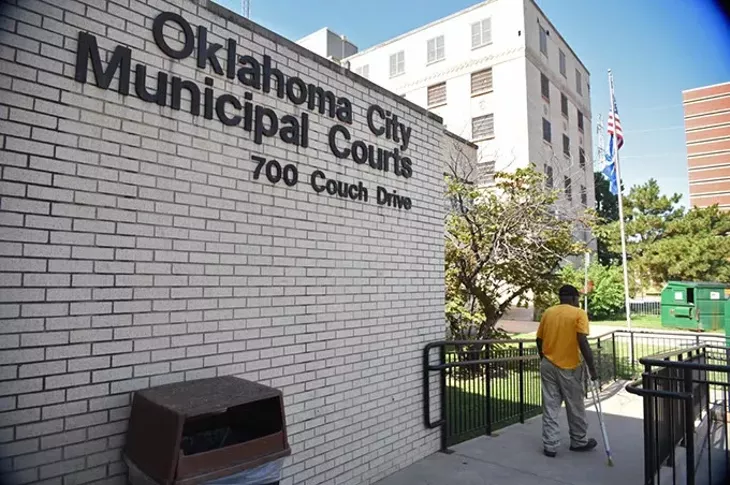 In attempts to learn what not to do in their cities, many in law enforcement and criminal justice leafed through the findings in a U.S. Department of Justice report on the Ferguson Police Department seven months after a white officer shot and killed an unarmed black teenager.
Oklahoma City's deputy municipal counselor Cindy Richard was among them. The longtime Oklahoma City attorney analyzed the report for comparison of the city's municipal court, which hears environmental violations; traffic violations; misdemeanors like public intoxication, theft and possession of drug paraphernalia; and violations of city ordinances.
The Ferguson report focused on policing and court practices in the Missouri city. It described an aggressive ticketing and fining system that flowed into the city's municipal court system and boosted its revenue collections. The police department's use of excessive force, lack of accountability and racist bias in law enforcement were illustrated through emails and interviews with residents and city employees alike.
"By the time I finished that review, I decided that [Oklahoma City] was a top-notch court and in a good place," Richard told Oklahoma Gazette. "But there is always room for improvement. An area we needed to focus on was indigency hearings."
Oklahoma City Municipal Court averages between 120,000 and 150,000 hearings per year. Richard explained the vast majority of cases are first-time misdemeanor offenses.
Over the past year, Richard, along with Chief Judge Philippa C. James and other court and city leaders, reviewed and revised procedures in efforts to strengthen the efficiency and effectiveness of the municipal court system. Perhaps more important, though, leaders were determined to prevent people sent to jail because of their poverty.
In June, the Oklahoma City Council backed those efforts by unanimously passing a resolution regarding the new policy goals.
Already, court officials have seen their efforts pay off, benefiting the city and easing the burden on those coming into court. Oklahoma City's efforts match similar municipal criminal justice reform efforts taking place in other major cities. In addition to the eye-opening Ferguson report, jailing poor people solely for their inability to pay has been the subject of lawsuits and reforms across the country.
Expanding dockets
Like any municipal court in the nation, Oklahoma City sees its fair share of residents who live in poverty-stricken circumstances issued citations for speeding, trespassing, stealing and other city law violations.
Indigent people are entitled to a court hearing on their ability to pay when fines and court fees are issued. Those who request an indigency hearing are handed a packet explaining the process and listing documents to bring for the judge's review.
Recently, the city expanded opportunities for low-income people to come before a judge to explain their financial circumstances. The new policy calls for offering a minimum of eight indigency hearing dockets each week. The dockets are reserved specifically for judges to rule on a reduced or suspended fine, payment plan arrangements or continuing with the set fine.
Marshal assist
As recently as a year ago, people were arrested by police officers over misdemeanor warrants concerning unpaid fines and taken to jail. There, an individual could sit, sometimes for days, until they made bond or were brought before a municipal judge. Many times, the original infraction would not have warranted incarceration in the first place, Richard said.
Through the city's "marshal assist" program, police officers call the city marshal on individuals with municipal warrants for failure to pay. The marshal escorts the person to the municipal courthouse to come before a judge immediately or schedule an indigency hearing.
The program works to get defendants in front of a judge rather than in jail, reducing an individual's likelihood of serving any jail time for a misdemeanor and lessening the city's contract with the Oklahoma County Detention Center.
"It's great when you do the right thing, but it's also great when the right thing shows a positive outcome," Richard said. "Those people have been able to stay in the workforce, which they wouldn't be if they were seated in jail."
When the municipal court moves into its new facility this spring, marshal assist will spread to cases that have not yet been adjudicated.
Another aspect of the municipal court reform is dependent upon the state Legislature. One of Oklahoma City's legislative proposals for 2017 calls for expanding sentencing options for municipal court judges to include community service. Court leaders would like to see judges have discretion to order an indigent defendant community service in lieu of fines and court costs.
Richard explained a community service option coincides with a March U.S. Justice Department letter to colleagues concerning indigency hearings. The courts "must consider alternatives to incarceration for indigent defendants unable to pay fines and fees," the letter stated.
As reforms continue through the city's municipal court system, leaders like James want the public to know the court's new mindset. Court officials are focused on the person's circumstances diverting from jailing options, which only create a further hardship, James told Mayor Mick Cornett on the November episode of Mayor's Magazine.
"We've changed the culture of Oklahoma City Municipal Court," James told Cornett. "If you walk into the municipal court building to resolve a warrant or an issue, we will do everything we can to assist you."
Print headline: Court reform, Oklahoma City Municipal Court officials call for reform to keep from unfairly punishing people because they're poor.