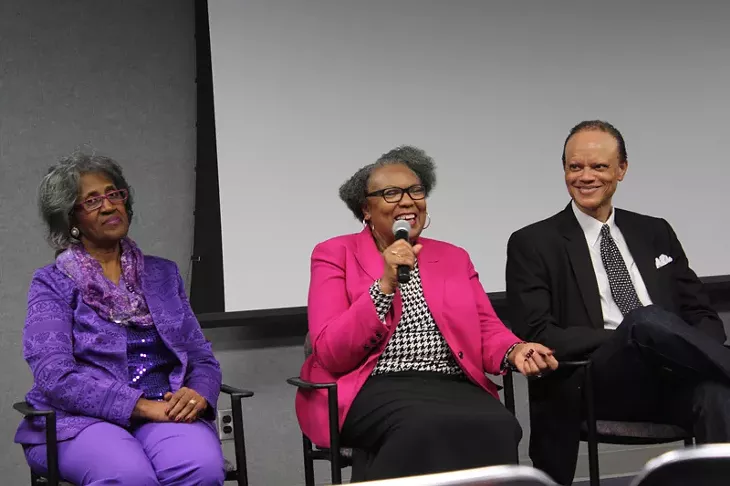 When Ayanna Najuma was a child, she watched movies from a balcony seat of the theater. She read signs above water fountains — one marked "White" and one marked "Colored." In downtown Oklahoma City, segregated bathrooms existed in two spots: Union Bus Station and the basement of the Oklahoma County Courthouse.
In 1957, Najuma and 25 classmates from Dunjee school traveled to New York City to present the play Brother President to national NAACP leaders. Under the leadership of their teacher Clara Luper, the trip served as a formative experience. The 26 children ate at lunch counters, sat freely on busses and stayed in the Henry Hudson Hotel, now the Hudson Hotel.
"We got to meet interesting people," Najuma recalled. "We got to go to hotels and restaurants. No one told us we couldn't go there. No one said, ''Round back.'
"When Marilyn (Luper) had the idea, 'Let's do something now,' it wasn't difficult to process."
Marilyn Luper, the daughter of Clara Luper, presented the idea at the Aug. 19, 1958, NAACP Youth Council meeting in the Luper home. She proposed a trip to Katz Drug Store, located at the southwest corner of Main Street and Robinson Avenue in Oklahoma City. The youth would order a round of Coke bottles, and they wouldn't take the order to-go. The NAACP youth were planning a sit-in at a popular Oklahoma City lunch counter.
Gwendolyn Fuller, the council's president, asked the adviser if the youth could go to Katz and seek service just like everyone else, Clara Luper wrote in her 1979 memoir, Behold the Walls.
"I could feel the eyes of the members on me," Clara Luper wrote. "I thought for a brief moment and traced the steps that we had taken. We had been patient, and I saw in the children's eyes reflections of my restless childhood when I wanted to do something to a system that had paralyzed my movements and made me an outsider in my own country. Yet these were children whose ages ranged from 7 to 15 years old."
The Dunjee teacher made three phone calls for transportation. Once three cars arrived, 13 children and Clara Luper began the journey to downtown Oklahoma City.
At Katz, the students sat on the counter stools and waved a $5 bill. The action was met with no service, prompting the start of the civil rights movement in Oklahoma City.
After two days of sit-ins, Katz management served the black youth. The youth, who grew in numbers, moved on to Veazey's, Kress, John A. Brown and Anna Maude Cafeteria. From 1958 to 1964, the nonviolent sit-ins and protests occurred on Saturdays during the school year. There were never any violent confrontations, but Clara Luper was arrested 26 times during the six-year campaign to desegregate Oklahoma City lunch counters. The drive was brought to a close in 1964, when Congress passed the Civil Rights Act that outlawed discrimination in most public accommodations.
Breaking barriers
Clara Luper inspired her students and youth involved in the NAACP Youth Council, said Joyce Jackson, who was an active participant in the campaign.
"She had a way of making history come alive," Jackson said. "We were excited to go to her class because we knew we were going to do something different and exciting."
Fellow classmate Joyce A. Henderson said Luper didn't just teach American history, but instructed her students to stand tall, speak clearly and eliminate "ums" and other filler worlds from their speech.
"It was a blessing," said Henderson, who pursued a career in education with Oklahoma City Public Schools. "If you had a teacher like Clara Luper, you knew to be involved and to make a change. That was part of what we did in her classroom. We took it outside of the classroom. She encouraged us to be involved in NAACP Youth Council under her leadership. It was a priceless moment for me."
Each Saturday, the group gathered at Calvary Baptist Church in Deep Deuce to prepare for the protests. Youth were trained for the sit-ins, with specific instructions on how to act, speak and respond to pushback from lunch counter staff, customers and the police.
"Ms. Luper had a strategic plan," Jackson said. "We were taught what to do, how to act and how to respond if something happened."
Clara Luper, who retired from Oklahoma City Public Schools, died in 2011 at the age of 88.
As adults, the three women believe their stories and those of others who participated in the civil rights movement can inspire future generations.
"To expose young people to see history, you never know what impact you are making on them," Henderson said. "They don't know what impact it's making on them. … You've got to start somewhere."
Sharing stories
After years of sharing their stories, six students — including Najuma, Jackson and Henderson — were interviewed for the 2015 documentary Children of the Civil Rights. Ardmore native Julia Clifford directed the film, which she pursued 50 years after the start of the Oklahoma City sit-in movement. It focuses on the sit-ins and the courageous young participants.
Julia Clifford first learned of Oklahoma's role in the civil rights movement from her father, Bill Clifford, the first white man to protest with the NAACP youth in Oklahoma City.
Children of the Civil Rights premiered in OKC before being screened across the state and country. This month, students from Tulsa Public Schools and the University of Tulsa viewed it and heard from some of its participants, such as Julia Clifford, Bill Clifford, Najuma, Jackson, Henderson and Hannibal Johnson, a Tulsa author and community leader.
The film returns to OKC 2 p.m. March 19 with a free screening at Oklahoma City Museum of Art, 415 Couch Drive.
Print headline: Changing history, Oklahoma Gazette remembers Oklahoma City's civil rights movement.