For the last 10 years, Oklahoma Autism Center has worked to improve the quality of life for children with autism spectrum disorders and their families by creating and supporting a network of services across the state.
In honor of the 10th anniversary of the center's early foundations program, one of three major projects that fall under its umbrella, the center hosts a gourmet grilled cheese fundraiser Nov. 30 at its facility at 3901 NW 63rd St.
The fundraiser is divided into a lunchtime portion from 11:30 a.m. to 1:30 p.m. and a family-focused evening event 4:30-6:30 p.m. Guests can build their perfect grilled cheese by selecting a variety of breads, cheese and additions like avocado spread, pesto, cured ham or caramelized onions.
A $10 donation includes a custom sandwich, chips, cookie and drink. Dine-in customers have the option to add tomato soup for an additional $2. A delivery option is also available during lunch for orders over $100.
"The services that we provide are free, and so the fundraiser helps to funds and continue our mission of building capacity across the state," said Liz Moore, project coordinator with Early Foundations.
The evening event is designed for the whole family. Characters from Frozen, Captain America and Spider-Man will be available for photos will children. A magician will provide entertainment while doing balloon art, and there will be an ice cream building station for kids and the young at heart.
The fundraiser is designed to get entire families involved and will raise anywhere from $5,000 to $8,000, Moore said. Other events, such as September's An Evening by the River, raise more money but are adult-only.
The fourth grilled cheese event is as much an outreach event as it is a fundraising occasion, Moore said, which ties into Autism Center's mission. Multiple times a week, the center hosts families for play sessions between children who have been diagnosed on the autism spectrum and those who have not, which Moore described as "the best anti-bullying campaign around by teaching awareness at an early age."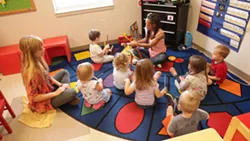 Providing support
Moore said 1 percent of the population has been diagnosed with autism, which has only continued to rise as the rate and accuracy of diagnosis has increased in recent years.
"Our goal and mission in general is to put a face and name on autism," Moore said, "that there are misconceptions about what autism is and people that have autism can go on to have very successful lives, but they need proper support."
The center has three primary programs: Early Foundations, MESA Project and Early Access. Early Foundations, in collaboration with the state's SoonerStart program, is an inclusive model that provides comprehensive intervention four days a week for the youngest kids at risk for autism.
MESA Project provides training and consultative services to public schools, and Early Access works with communities to get children identified for being at-risk for autism by providing free screenings. Early Access also provides information on speech and occupational therapy and family support groups to families across the state, from the panhandle to the Ozarks.
"A lot of families don't know what to do or where to turn, and we're here to help," Moore said. "Twenty-five years ago, it probably was more taboo or people looked at autism only when someone was more severe, and that's not the case anymore. It is a social disability, and as we get more knowledgeable, I'm hopeful that our community becomes more accepting of differences."
Print headline: Ooey, gooey; Oklahoma Autism Center celebrates 10 years with a family-friendly grilled cheese fundraiser