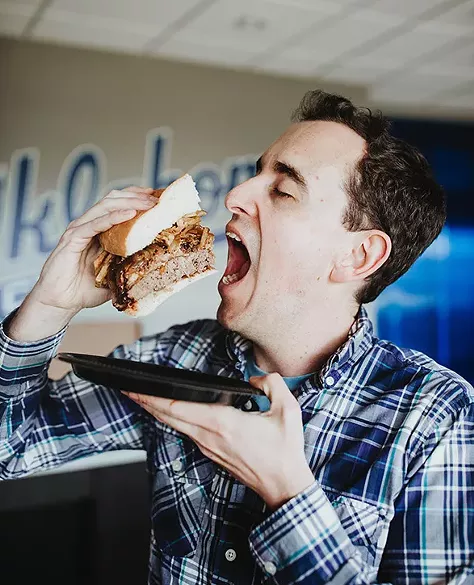 Chickasaw Bricktown Ballpark
2 S. Mickey Mantle Drive
milb.com/oklahoma-city
405-218-1000

What works: COOP Ale Works mustard on the bratwurst and tomato sauce on the mac and cheese pizza.
What needs work: The taco dog is tasty, but it fell apart.
Tip: Be on the lookout for homestand specials and offerings at Cielo Azul games.
Even if you are not a baseball fan, it is always worth a trip to Chickasaw Bricktown Ballpark to indulge in the unique culinary experience that is concessions.
Executive chef Will Fenwick and his staff's offerings go beyond the ubiquitous hot dogs, burgers and nachos with the yellow cheese sauce that oozes out of a pump.
Of course, the ballpark offers standard variants of those items that are nearly as synonymous with baseball as bats and gloves, but I was impressed with some of the new full-time menu options that will be available starting with Thursday's 7:05 p.m. opener against the San Antonio Missions that kicks off a five-game homestand.
The item about which I was most wary turned out to be one of the most enjoyable: the taco dog ($6.25), a hot dog topped with seasoned ground beef, cheese, pico de gallo and sour cream in a crispy corn tortilla shell that is layered with refried beans and wrapped in a flour tortilla. Maybe it's because I was partial to Taco Bell's double-decker taco as a kid, but this item's ground beef had exponentially more flavor than the fast food version. The sour cream and pico all brought it together. The taco is available at the Franx concessions stand, which is now located closer to home plate.
The taco dog is an example of one of the "homestand specials" last season that the kitchen staff adds during each weekly set of home games but has found its way on the full-time menu.
"We have 15 Dodgers staffers that come down and test them all and give feedback," Fenwick said. "The taco dog ended up being more popular than we imagined, so that's why we put it on the menu."Macaroni and cheese on a pizza certainly isn't new, but it definitely seems to be having a moment. The Pi Pizzeria stand is serving a mac and cheese pizza ($28 whole pizza, $5 per slice) topped with hot dogs. The pizza features a marinara sauce as a base, which I thought was a good decision. If it had a cheese sauce, that would have been like putting a hat on a hat. The acidity of the tomatoes helps cuts through the heaviness of the cheese and noodles.
"We tried it both ways, and it was close [between cheese and marinara sauce], but other places don't do it this way," Fenwick said.
Brat pack
One of my favorite new items is the COOP bratwurst ($6.75) that includes items cooked with COOP Ale Works' very-popular F5 IPA. The bratwurst is boiled in the beer, and the red cabbage is braised in the IPA, and there is a housemade stone-ground mustard that features the brew as well. If you're look-ing for a more sophisticated version of the ballpark dog, look no further. The mustard was the standout and is the bite I remember most from my ballpark tour.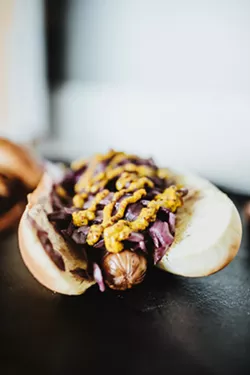 COOP Ale Works expanded its partnership with Oklahoma City Dodgers for this season, so you will find more places to get the beer. On Thursdays, all domestic beers are $2, and all COOP draft beer is $3. The Margaritaville stand also added a Dodger blue margarita and alcoholic strawberry lemonade.
The Burgertopia stand is adding a smoked Gouda burger ($8.50) that tops bacon, bourbon onions and Theta sauce in addition to the aforementioned cheese. Smoked Gouda is one of my favorites cheeses, one that melts well and has plenty of flavor. It was nice to see the addition of the Theta sauce, which is obviously an Oklahoma City staple. I would gravitate to ordering the burger over its All-American counterpart at the burger stand, but I should also note that there is a black bean burger (470 calories) available for vegetarians.
Vegetarians and those looking for a guilt-free snack at the ballpark will be excited for the expansion of the Fresh Market Cart, which debuted last year with a rotating menu of salads and wraps. They've kept those items and added housemade red and green salsas that come with organic blue corn tortilla chips and hummus that comes paired with Sun Chips or pretzels in addition to fresh fruit and vegetables.
On the opposite end of the spectrum is the city's newest entry in its pantheon of food challenges. The Dodger Burger ($40) is a two-pound hamburger patty topped with a pound of pulled pork, cheddar cheese, grilled onions, french fries and barbecue sauce.
"That's my baby," Fenwick said jokingly. "It's probably the equivalent to six or seven burgers, so it's actually a pretty good deal [if it's split between people]."
The Dodger Burger isn't available at the start of the year. The staff is still working out the particulars of the challenge, but it will likely include a hat and T-shirt, if one person is able to eat the entire burger during a certain amount of time.
I was somehow able to fit the entire height of the burger in my mouth for one bite, and the french fries were a nice addition for texture. If you remember anything from my food challenges cover story in February, eat the protein first and finish with the bread and starch if you're going to attempt the challenge when it is available.
I should say that I received the perfect version of all of these items. You might not get such attentive service during a busy day at the ballpark, but I enjoyed all of the items for the food escapism that they are: a chance to have some fun while eating and watching the baseball game.