Ah, breakfast. The first and most important meal of the day. There are so many options — it can be a challenge to choose a favorite. Whether you like your breakfast light or filling, sweet or savory, here are seven breakfast joints around Oklahoma City that are sure to help you start your day off right.
Classen Grill
405-842-0428
5124 N Classen Circle
Tucked inside the Classen Circle you'll find a historic little diner that's been serving up breakfast for nearly 40 years. Enjoy French-style omelets and eggs cooked however you'd like. Try the Chinook benedict, homemade patties of Chinook salmon topped with soft poached eggs and hollandaise. Or start your morning sweet with an order of their bananas, berry, and cream Belgian waffles. While you're there, enjoy a glass of freshly-squeezed orange juice which is some of the best in the city.
Neighborhood Jam
405-724-8149
Multiple OKC locations

Breakfast can be classic. It can be unique. If out-of-the-ordinary is your jam, this might be the place for you. Here you'll find all your favorite breakfast classics whipped up with a creative twist. Try the lemon poppy cakes, which are buttermilk poppy seed pancakes topped with housemade lemon curd, lemon cream swirl, and a poppy glaze. Their breakfast Cuban (yeah, they're a thing) is a combo of ham, pulled pork, candied bacon, Swiss cheese, mustard, pickled red onion and two eggs your way on a toasted ciabatta roll.
SunnySide Diner
405-722-8262
Multiple OKC locations
Sunnyside Diner provides guests with a classic yet modern diner experience. From fluffy pancakes and waffles to corned beef and hash and a wide array of omelets and brunchwhiches, they cover all the breakfast bases and then some. Try the green chili breakfast burger, a half-pound hamburger on a toasted brioche bun with green chilis, cheddar cheese, fried onions, a sunnyside egg finished with green chili hollandaise. They even offer a sizable plant-based menu, so there's something for everyone.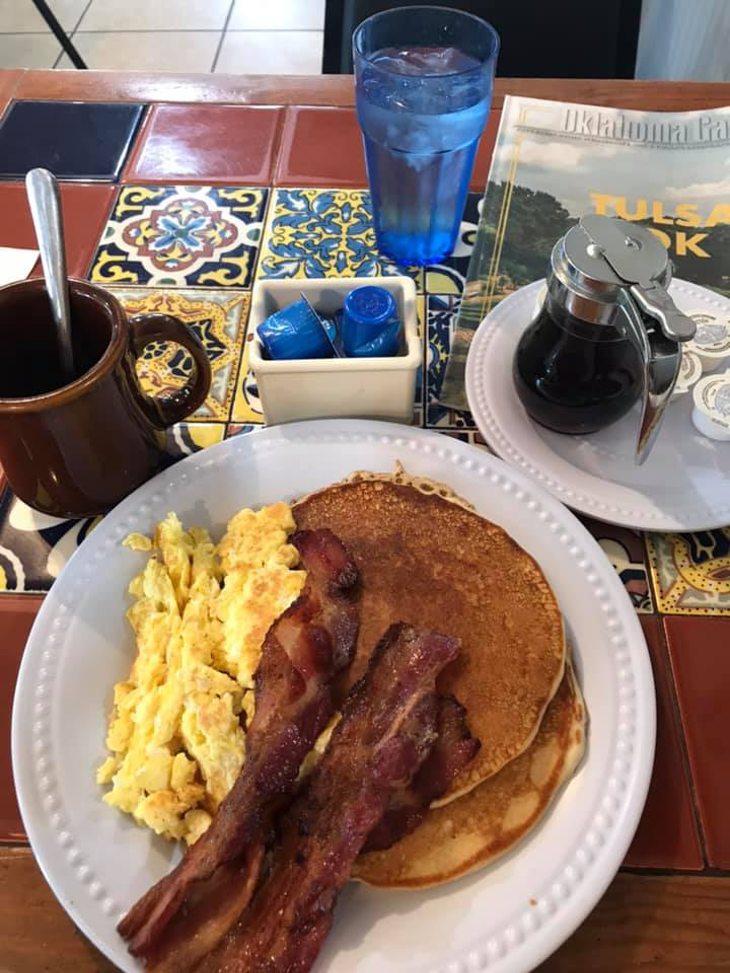 Jeff's Country Cafe
405-524-2023
3401 N Classen Blvd.
If you are craving a simple, homestyle, midwestern breakfast at affordable prices, Jeff's Country Cafe has offered patrons a classic diner experience for both breakfast and lunch for more than three decades. Their menu boasts all your favorite breakfast items, from biscuits and gravy with eggs to waffles and pancakes, all served hot, fresh, and delicious. Best of all, breakfast is available all day every day so you can enjoy it even for dinner.
Syrup
405-601-1354
1501 NW 23rd St.
Just like the name, this place is as sweet as Syrup. This self-proclaimed impact-based brunch boutique offers dishes to start your day off traditionally or with a flair. Enjoy a red velvet waffle or the waffle sundae, a housemade waffle topped with vanilla bean ice cream, chocolate syrup, whipped cream, and pecans. If you're not feeling the sweetness, try savory classics like huevos rancheros or the eggs benedict. For the carb-conscious, they've got you covered with an impressive array of gluten-free options.
Hatch Early Mood Food
405-286-2974
Multiple OKC locations
Hatch is breakfast with a new-age twist. From their Belgian waffle and funky monkey bread to their street tacos and an array of omelets and benedicts, their menu covers everything. Try the breakfast Cuban, a delicious combo of pressed torta bread, grilled duroc ham, bacon, egg, swiss cheese, pickles, beer-braised pork, sautéed peppers, and onions finished with dijon cream. If you're looking for the dish that swept the nation, then yes, they've got your avocado toast, complete with sunny side-up eggs and chipotle hollandaise.
Hunny Bunny Biscuit Co.
405-506-9055
Multiple OKC locations
If you're into biscuits, Hunny Bunny Biscuit Co. has got you covered. They make their delicious biscuits from scratch each day and offer several ways to enjoy them. Make it simple and pair a biscuit with jam, or go all-in with the "classic'' — a breakfast sandwich with your choice of bacon, ham or sausage, American cheese, and an egg cooked to order. If you prefer your breakfast vegan, they've got some great options. They also offer full-service coffee, bloody marys and mimosas, making it a go-to for brunch on days off.