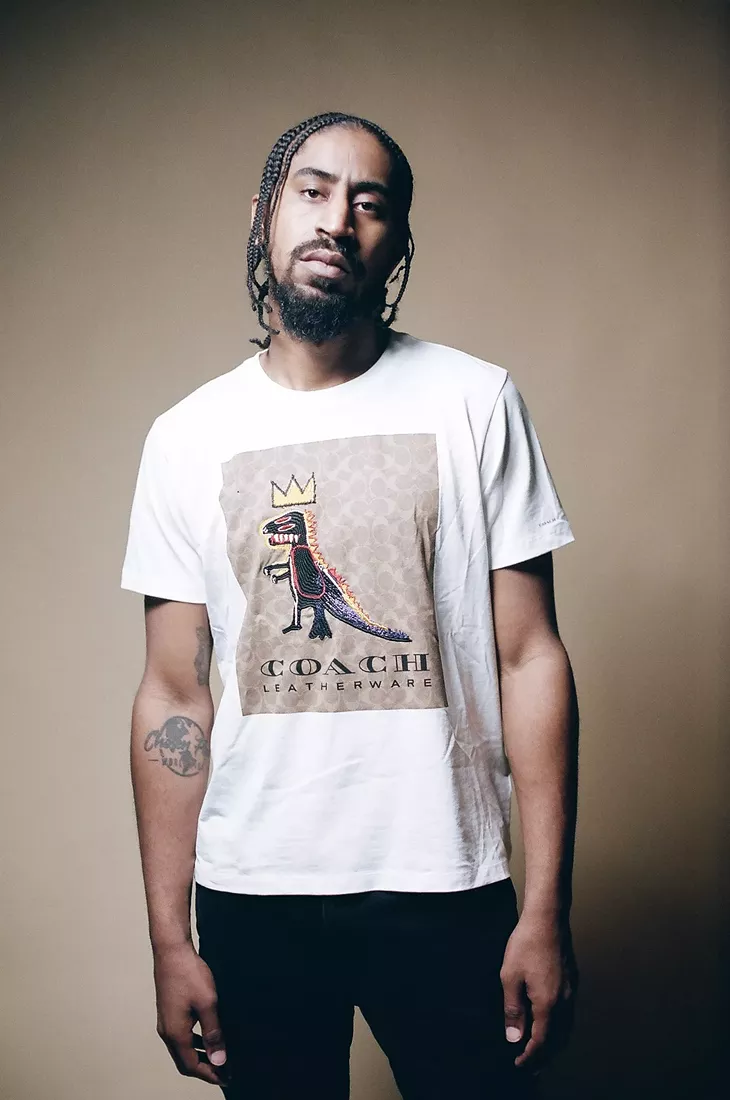 To the layperson, the title 328i may sound like something out of abstract science fiction, but its reference is anything but dystopian or futuristic. Instead, this time machine runs the other way. In both the literal and figurative sense, the 328i is a vehicle for nostalgia — it is a model of BMW that Ronnie Johnson drove in high school.
Known by his hip-hop moniker, Grand National, Johnson has impressively grown from burgeoning local rapper to Oklahoma City renaissance man in a relatively short amount of time. Since 2015's debut LP, Grand Prix, he has upped his game with every release, cresting most recently with his fourth album, 2020's excellent Stacc-A-Dolla. That release heralded a full-throttle foray into street fashion and lookbook photography with Cash Only, his clothing brand.
Now, Ronnie Johnson is raising the bar again by adding film director to his resume.
328i is a twofold multimedia project that is part music album and part short film. It is the artist's most forward-thinking release strategy to date, yet it goes back in time to his teenage years when such an accomplishment was still a dream away. For an artist whose most popular music video is "Day Ones," appreciating his roots is not an unexplored idea, but on 328i, he takes it to another level.
The music, credited to Grand National, is slated for worldwide release on Dec. 14. The short film, credited to Ronnie Johnson, will screen for one night only at Rodeo Cinema at 7:30 p.m. on Dec. 16.
"The album came first," said Johnson. "From being inspired by the moments shared with friends in high school while driving my 328i...When you're in high school, it's usually one homie with a car, and you needed rides everywhere."
Similarly, on the new LP, Grand National is in the driver's seat. Some tracks hear him riding solo, while others carry prominent passengers like Ayilla, Parris Chariz, and The Vampire Youth. Moods range from feel-good jams ("What You Want") to serious ruminations ("BLK STR Pt 2"), but the tracklist never strays from its confident, relaxed style.
Peppered throughout the tracklist are sound bites from deleted scenes from the 1995 film drama New Jersey Drive. The samples are a natural fit, but their cinematic angle boasts more than thematic relevance to the 328i concept. They also hint at Ronnie Johnson's movie fandom and filmmaking trajectory that has mirrored his conception and rise in music as Grand National.
Since the beginnings of Devoted Media Group, the production company that helped make the new 328i short film possible, Johnson has been involved with local filmmaking. Around the time his hip-hop career started to pick up, he also began to make appearances in front of the camera in the group's early web series episodes. It was this crew that gave him the boost to pursue serious work in film, and by 2021, industry networking landed him in the company of one of his favorite directors of all time.
When Martin Scorsese's upcoming feature film Killers of the Flower Moon hits theaters, Ronnie Johnson will appear in the credits.
"A gaffer by the name of Ian Kincaid had reached out in early March asking me to be a part of his lighting crew, and the rest was history," Johnson said.
The film, which wrapped principal photography in October, will be a historical drama based on David Grann's bestselling nonfiction book Killers of the Flower Moon: The Osage Murders and the Birth of the FBI. Production took place in Oklahoma's Osage Nation, drawing from film and cultural resources within the state.
"I learned how a professional film is made — not only from lighting, but shooting and production as well," Johnson said. "I learned a lot from [Scorsese] and the director of photography...I was very fortunate to gain the information I did while being on set."
When it came time to tackle a directorial project of his own in that production's wake, Johnson's industry connections continued to pay off. Featuring a who's who of local video artists like Sharp and T. Mayes fulfilling various roles in the crew and with a script co-written by Devoted Media co-founder Nicole Jocleen, 328i is a community effort.
Fittingly, this echoes the short's inspiration. The interdependent camaraderie that Johnson symbolizes in his film through commutes with friends can just as well represent the production. 328i is the vehicle, and everyone involved is sharing the ride.
"It was fun," Johnson said. "We shot three days from sundown to sun up, and no one complained. I'm forever grateful for that."
Without spoiling too much, the plot of 328i centers around a rapper and a ghostwriter who make a perfect pair. Set against a background of Oklahoma City night drives and conversations with high school friends, the story unfolds to reveal external forces which threaten to pull the two apart. The ending is a clever stroke of inspiration.
While the characters are wholly fictional, Ronnie Johnson is present in the film through his directorial eye and Grand National soundtrack. His fashion photography skill set translates into some memorable shots, and his needle drops transform scenes into moments. He also slips in homages, such as the Quentin Tarantino poster that introduces a character and the bit of dialogue that proves to be an Easter egg to those who have paid good attention to the music album.
"I always knew I would find a way to make a film," Johnson said. "I'm a movie person, and that's always stuck with me growing up."
Now, after journeying parallel paths as Ronnie Johnson and Grand National, the two are meeting at a pivotal time within both careers. Each serves to elevate the work of the other, adding up to more than the sum of its parts. In a way, it is like cinema itself, which unites sound and picture to create an art form distinct from either.
Pursuing a dream can be a gamble, but there are methods to better one's odds. Openmindedness is the first step.
"Don't be afraid of those ideas in your head," Johnson said, and his cinematic idols seem to agree. To quote Quentin Tarantino, "The good ideas will survive."