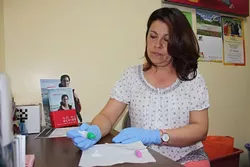 Condom kits passed out during OKC Pride Week come with a strong message: Start Talking. Stop HIV.
It's a message Expressions Community Center decided to promote when it began offering free testing in its offices inside a tiny corner of Expressions Church, located on The Strip, Oklahoma City's gay social district.
The kit includes a condom, a lube packet and printed instructions on how to use a condom. They are wrapped with a health message, one that discloses the troublesome reality of America's HIV epidemic. HIV is the virus that causes AIDS. According to the Centers for Disease Control and Prevention (CDC), 1 in 4 new HIV infections occur in youth ages 13 to 24 years.
"For people who grew up in the 1980s, HIV/AIDS was a death sentence," said Jenny Archer, Expressions Community Center executive director. "Now, that's not the case. That's good news, but we have a generation growing up thinking HIV/AIDS is like a common cold. If they get it, they can just take a pill. Or they think, 'It can't happen to me.'"
A laissez-faire attitude toward HIV infection poses a serious problem for the community as the disease and AIDS continue to destroy or damage the lives of millions of people worldwide.
National HIV trends mirror those on the state level. According to the Oklahoma State Department of Health, 311 new cases of HIV were diagnosed in 2014, with more than 60 percent of the cases affecting the 20-39 age group. African-Americans had the highest rate of newly diagnosed HIV cases in 2014.
"For younger people, the message is lost," said Cher Golding, Oklahoma AIDS Care Fund executive director. "They see that they can take medication and be 'fine.'"
At the Latino Community Development Agency (LCDA), Nohora Chandler interacts with individuals in their 20s who know nothing about the virus or how to reduce their risk of contracting it.
"It is different when you have the knowledge," said Chandler, LCDA's HIV program coordinator. "The last two individuals who tested positive were between the ages of 20 and 22. They didn't know about AIDS. That's what is different from older generations. Older people know about AIDS from the 1980s. Youth might know that HIV can affect them, but they never saw it take a friend, a partner or someone close to them."
The AIDS health crisis of the 1980s pushed the diseases forward on two fronts. One was medical research, which led to medical and prevention advances.
Today, people with HIV have treatment options that can help patients live longer and healthier lives.
The crisis also largely affected America's perception of the disease, which helped spread the idea of safe sex and protecting against AIDS. From 1987 to 1991, The America Responds to AIDS campaign, created by the CDC, pushed the public message that everyone is at risk. National ads asked, "Heard much about AIDS lately?" or "AIDS is scary, but a zit is real, right?"
As the disease has evolved, and with staggering recent statistics involving youth and minority communities, the need for organizations providing services for HIV-positive and at-risk individuals is substantial. Oklahoma County, which had the state's highest number of newly diagnosed HIV cases in 2014, is home to a variety of HIV and AIDS service providers.
Working together
Expressions Church visitors walk by a mural of blooming flowers with scissor-tailed flycatchers hovering above. Archer, who began serving as the center's executive director two years ago, explained the blossoms represent the center's clients and the white, gentle birds represent the agencies helping those who seek services.
A local artist painted the mural on the exact location where free and confidential HIV testing began years ago after the church teamed up with Red Rock Behavioral Health Services. Since that initial partnership, the church has transformed into a community center providing outreach efforts to the LGBT community.
"Expressions Community Center provides an overall umbrella for agencies to do what they do best," Archer said. "We work together. We provide the space; they provide the services."
With the motto "Together We Can Make a Difference," the center houses offices for agencies like LCDA, Red Rock and Guiding Right to provide free HIV testing and services. Other agencies, such as the state Department of Human Services, are located down the hall and connect individuals with services like housing, employment and medical assistance.
Collaboration benefits those who visit the center, Archer explained. Before the expansion, if a person tested positive for HIV, they were handed a phone number or a phone call was made on their behalf for the next point of help.
"Now, we walk them down the hall, where they can get help from a myriad of programs," Archer said.
Each month, around 500 people visit the location for services from the various agencies. Many are from Oklahoma City, but some come from outside the area.
Social stigma remains a barrier to testing, Archer said. Some visitors could be tested at their physician's office or at an HIV service provider in their community, but there remains a fear of being seen by an acquaintance.
"They are too afraid someone they know will see them," Archer said. "There is a stigma around anything dealing with sex."
Education focus
The HIV test produces results in about 20 minutes. During those 20 minutes at LCDA, Chandler counsels the individual on risky sexual behaviors, using condoms and limiting the number of sexual partners. Sometimes, the conversation includes topics such as substance abuse, domestic partner violence and mental health.
"It's hard to talk about in 20 minutes when no one has talked to them before about this," Chandler said.
A negative test result comes with a cautionary message from Chandler.
"I always tell them, 'You are negative today, but that doesn't mean you'll be negative tomorrow,'" she said.
If the results are positive, treatment starts immediately as Chandler and other LCDA staff begin referrals for medial care, case management and social services.
"Our goal is to keep someone who is positive in care because then they are less likely to affect others," she said.
LCDA staff administer 600 to 700 tests a year at its SW 10th Street location and at mobile sites around the metro, including rehab clinics and churches. The nonprofit organization serves the city's Hispanic community and promotes HIV prevention services.
Nationally, more than 1.1 million people (including 220,000 Latinos/Hispanics) are living with HIV, according to a 2014 Kaiser Family Foundation report.
CDC research suggests half of gay black men and a quarter of gay Latino/Hispanic men are projected to be diagnosed with HIV during their lifetime.
For Hispanics living in Oklahoma City, Chandler said there is an array of factors behind the alarming rates, including lack of awareness and education as well as the heavy stigma attached to HIV and AIDS. Some clients share a dislike of condoms.
LCDA offers a sexuality workshop for parents. It's designed to get them comfortable with talking about sexual health issues, including sexually transmitted diseases, with their children.
"We teach them everything because their children are at risk if they don't talk," Chandler said. "That's the problem. No one is talking about prevention within the family."
Community barriers
For nearly 25 years, the community's financial support through OACF's annual Red Tie Night has propelled the work of many HIV and AIDS organizations, said Golding and Michi Medley, OACF development and marketing coordinator.
Millions of dollars have been raised by OACF, whose board later grants the funds to Oklahoma nonprofits like LCDA, Expressions and others. As OACF moves into the next 25 years, the nonprofit sees its role including advocacy, especially as new treatments help those with HIV and AIDS stay healthier and new infections continue to rise.
"We have a place in the community where our voices could be heard," Medley said. "We can let our legislators know the disease has changed and it remains an issue.
"When you are talking about HIV and AIDS, there is an immediate wall, not with everyone but some people. We have to break down barriers."
Print headline: Troubling truth, The increased number of youth and minorities contracting HIV challenges communities across Oklahoma and the nation.