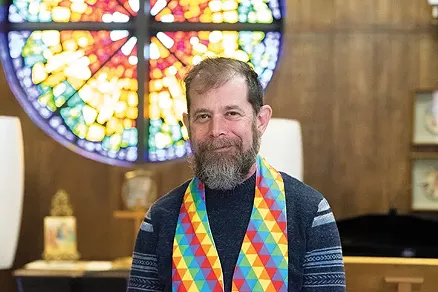 United Methodist Church (UMC) could split following a recent vote to double down on its stance against homosexuality. Since 1972, UMC's Book of Discipline, a set of global laws and doctrines, has stated that practicing homosexuality is immoral; however, it is not widely enforced.
"The practice of homosexuality is incompatible with Christian teaching," the book reads. "Therefore, self-avowed practicing homosexuals are not to be certified as candidates, ordained as ministers or appointed to serve in The United Methodist Church."
Church delegates at a special session of UMC's General Conference last month voted to adopt the Traditional Plan, which would enforce that provision and close loopholes that allow for LGBTQ+ clergy.
"Essentially, the Traditional Plan comes down on the side of retaining the language, and it strengthened it and prescribed penalties," said Oklahoma bishop James Nunn. "Of course, all of that's under review still, and so it's premature to actually know what we got."
The church's judicial council, its equivalent of a supreme court, will look at the "constitutionality" of the Traditional Plan and other items at the end of April. After that, the church will know exactly what will be passed, which would go into effect January 2020.
"This is an attempt to create mechanisms that force bishops and boards of ministry and districtcons committees to enforce provisions," Nunn said. "Over the last eight to 10 years, there's been an increasing … number of bishops and boards who, for their consciences sake, find themselves unable or unwilling to enforce the provisions in the Book of Discipline. So what we have now is a church where some uphold the book, and there's other places where it's ignored."
General Conference
Various plans on the topic of sexuality were presented at the general conference.
"One plan would sort of create almost three denominations under the umbrella of the United Methodist. It would have required the most work and it would've taken the longest to implement," said Rev. Scott Spencer, lead pastor at Mosaic UMC. "The [One Church] Plan was each local church could decide for themselves whether they want to have same-gender weddings on their property and each pastor could decide whether they want to do weddings or not."
Though the One Church Plan had the most support from bishops, they can't actually vote at the conference. The Rev. Jen Logsdon-Kellog, associate pastor at Quail Springs UMC, said the final vote on the Traditional Plan was 53 percent in favor and 47 percent opposition. However, 60 percent of delegates from the United States were against the plan.
"The nature of our denomination is that it is global, and because of lots of reasons, the United Methodist Church in Africa is really strong and growing," she said. "Right now, it's still illegal to be gay."
Despite the Traditional Plan getting the most votes, Nunn said most of the alternatives had at least 40 percent support from delegates. "
It was very close, and when you look at the fact there were roughly 850 people on a swing of 25 to 30 votes — that's how close and how hotly debated things get," he said. "When people get really worked up, emotions take over and we look for people to blame."
Potential split
The Traditional Plan would also put a provision in place to allow churches to leave UMC.
"The traditionalists were trying to open up a period of time in which churches could walk away with their property and their assets without a lot of penalties," Spencer said. "There's a lot of resistance to that as well. So we're sort of in a battle over whether that's really going to happen or not."
Though Spencer said no one wants to be the first to walk away, the church as a whole is not quite at the point of splitting. Mosaic UMC released a statement a few days after the vote saying the decision did "not reflect Mosaic's vision of the love of God." Spencer also released his own statement, announcing that he would treat all couples equally.
"I have taken a stand that just says, 'I will not use that excuse that my rules don't allow me to do this wedding,'" Spencer said. "Because I can't look at a couple in the face and tell them, 'I believe your people have sacred worth. I believe you should get married or should be allowed to get married. But you can't get married here, and I can't do it.' To me, that diminishes telling them that they're people with sacred worth. So I just can't do it anymore. But I do think if I were to do a wedding, I know there will be consequences to that. So it's not that we can just get away with it."
Both Mosaic and Quail Springs have same-sex married couples as part of their congregations who are fully supported by their communities. They are also both part of UMCOK for Equality, a grassroots organization and coalition of affirming churches.
Within the next year, Spencer said Mosaic leadership will decide whether the church will stay in its denomination or leave. However, he said it would like to join another potentially new Methodist-type group rather than being independent.
Logsdon-Kellog said Quail Springs will continue to look at options. The church is not as close to making a decision to leave as Mosaic. In fact, she said some parents of LGBTQ+ people are "fired up" and looking at how to impact change within the UMC.
"I've got some that have nominated themselves to run as lay delegates for the 2020 General Conference. So they are, at this point, looking at 'How can we continue to advocate for change within the United Methodist denomination?'" she said. "But our church council and then the senior pastor and I will be, at least, watching and aware of what other denomination may form. ... But we haven't been having the conversation nearly as long as Mosaic has about what the possibilities are. So it might take us longer to assess."
Nunn said he gave up his personal opinion when he became a bishop but was consecrated to be a bishop to all people.
"It's not helpful to anybody for me to say, 'Well, I'm for this' or 'I'm for that' or 'I'm going to punish somebody because they disagree with me.' That's childish," he said. "I'm not in that political stuff, I never have liked it. I don't like it today. … I think I've got a responsibility to think about every single person and how can we help people. How can we make a difference?"
He released a pastoral letter to "everyone who is hurting" a day after the vote. In it, he mentioned the last thing he expected at the conference was to experience feelings like the ones he experienced when his brother died — numbness, shock, deep grief and loss.
"Remember, Jesus loves you, whoever you are," he wrote at the end of his letter.