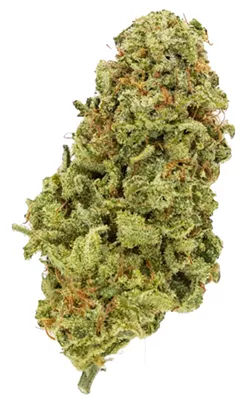 Strain name: Papaya
Grown by: Vyce Cannabis Co.
Acquired from: Puff The Dragon
Date acquired: Feb. 13
Physical traits: shades of bright green
Bouquet: sweet, fruity and earthy
Review: You might not expect to find a sleek and stylish dispensary within the walls of a renovated Taco Mayo, but a visit to Puff The Dragon will leave you pleasantly surprised. The dispensary opened its doors earlier this year, offering a menu of single source cannabis from Vyce Cannabis Co. among a curated selection of edibles and concentrates. Vyce Cannabis Co. grows their flower hydroponically, using only water to produce plants with high terpene profiles. Their dedication shines through with this strain of Papaya. This bright and frosty flower hits the nose with sweet notes before breaking down into a dense fluffy bowl that explodes with even more aroma.This "indica"-leaning strain tastes as good as it smells, coating the tongue in fruity flavor before whisking you off into a soft, relaxing high perfect for winding down on the weekends.